Description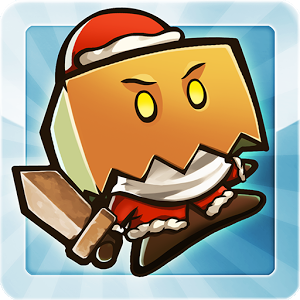 Hack and slash monsters in a spooky mansion! Slashy Hero must save Halloween by defeating spooky ghosts, possessed tombstones, and evil jack o'lanterns.
SPONSORED

Play through 48 action packed dungeons with unique enemy types and crushing bosses. Dash across the screen with a unique drawing movement mechanic, attacking as you go. Checkpoints every three levels let you save your progress and advance through the mansion.
Collect the candy that monsters drop when they die and use it to upgrade your stats. Loot treasure chests throughout the mansion to find costumes that buff your character. Transform into a rainbow cat, alien or cyborg. Combine costumes to become the Frankenwolf with a ray gun! Let your imagination run wild!
Slashy Hero is the Halloween game of the year!
Features include:
48 levels of action-packed mystery
30 awesome costumes
Hack n' dash movement
Secret rooms
Infinite mode with leaderboards
Slashy Hero is free to download. Some items in the game are available for purchase.
Screenshots
What's New
Happy haunted holidays!
– Race against the clock in the all-new Time Attack mode! Unlocks after reaching level 24.
– Discover 3 new costumes!
– New and improved inventory.
– Added Kongregate costume in the shop.
– Major performance improvements!
– Bug fixes
Permission
Version 1.0.55 can access:
find accounts on the device
find accounts on the device
modify or delete the contents of your USB storage
read the contents of your USB storage
modify or delete the contents of your USB storage
read the contents of your USB storage
receive data from Internet
full network access
view network connections
control vibration
prevent device from sleeping
Size: 43 MB
Version: 1.0.55
SPONSORED