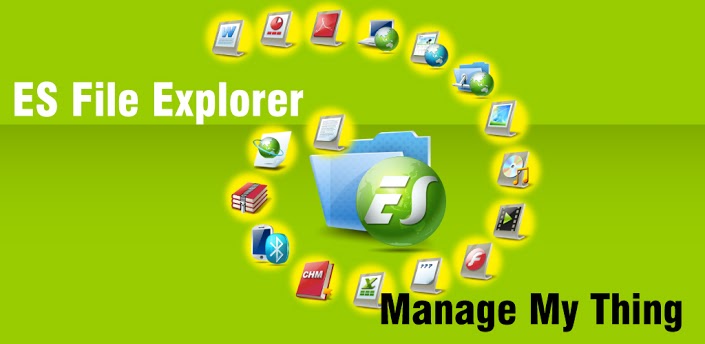 Description
V3 is coming! Classic Theme can be downloaded on Google Play.ES File Explorer is a free, full-featured file and application manager.
It functions as all of these apps in one: file manager, application manager, task killer, cloud storage client (compatible with Dropbox, Google Drive, SkyDrive, Box.net, Sugarsync, Yandex, Amazon S3, and Ubuntu One), FTP client, and LAN Samba client.
It provides access to pictures, music, video, documents, and other files on both your Android devices and your computers.ES File Explorer allows Android users, no matter where they are, to manage their resources for free. You can see and access all of your files from your mobile device and share them with others.
The app makes it easy to stay connected over 3G, 4G, EDGE, or Wi-Fi to share with friends, upload photos, and watch videos.Over 130 million downloads globally!
Rated one of best resource management tools on Android market.
ES File Explorer 3.0 currently supports 17 languages:
English, Russian, Japanese, French, Spanish, German, Traditional Chinese, Simplified Chinese, Dutch, Italian, Hebrew, Vietnamese, Slovak, Czech, Hungarian, Ukrainian and Tamil.
This standard version is for Android 2.1, 2.2, 2.3, 3.1, 3.2, 4.0,4.1 and 4.2. Android 1.5/1.6/2.0 users, please use ES File Explorer Cupcake version.
You can download older versions from our official website.
Features List:
* File Manager – Manage your files like you do on your desktop or laptop using Multiple Select, Cut/Copy/Paste, Move, Create, Delete, Rename, Search, Share, Send, Hide, Create Shortcut, and Bookmark; operations can be performed on local files (on your Android device) or remotely (on your computer)
* Application Manager – categorize, uninstall, backup, and create shortcuts to your apps
* Remote File Manager – when enabled, manage files on your phone from your computer
* Built-in ZIP and RAR support allows you to compress and decompress ZIP files, unpack RAR files, and create encrypted (AES 256 bit) ZIP files
* Built-in viewers and players for various file types, including photos, music, and videos; supports third-party applications, such as Documents To Go, for opening others
* Shows thumbnails for APKs and images
* Text viewers and editors
* Access your home PC via WiFi with SMB
* Functions as your FTP and WebDAV client. Manage files on FTP, FTPS, SFTP, and WebDAV servers just like you manage files on your SD card
* Supports Dropbox, Box.net, Sugarsync, Google Drive (Google Docs is now a part of Google Drive), SkyDrive, Amazon S3, Yandex and more.
ES File Explorer is an enhanced cloud storage client with more functions than the official versions,
it can save photos, videos, and other files to your internet drives and share them with others.
* Bluetooth file browser You can copy and paste files between Bluetooth ready devices. It supports OBEX FTP for browsing devices and transferring files between Bluetooth devices.
* Kill tasks with a single click — includes a simple widget for automatically killing tasks, with an ignore list to ignore the applications you want to keep running. To use this feature, you must have ES Task Manager module installed.
* Root Explorer — the ultimate set of file management tools for root users. Provides access to the entire file system and all data directories, and allows the user to change permissions.
* Developers can visit our website for the developer interface for picking files from your applications, emailing attachments, etc.
* More features included, and many more to come
We're working to create the best file manager on Android Market, so please do not hesitate to CONTACT US with your comments, suggestions, or any issues you may have.
App Screenshots
SPONSORED

Videos
What's New
What's in this version:
FAQ- Where's my language
Please wait for update,we're adding.
V3.0.2
1) Add languages: Portuguese,Lithuanian,Catalan
2) Fix Yandex login issue
3) Add "Open as" feature
4) Fix some issues users have reported(gallery cannot see pic…)
V3.0.1
Add "select by range" feature, fix German translation errors and some reported issues,
V3.0.0
New UI,Fast Access(Press menu),Multi-Windows,Send By WiFi,Gestures(Drag,Zoom,Slide),Theme,Root Explorer,..
V1.6 can be downloaded from official website
Permissions
THIS APPLICATION HAS ACCESS TO THE FOLLOWING:
NETWORK COMMUNICATION

FULL NETWORK ACCESS

Allows the app to create network sockets and use custom network protocols. The browser and other applications provide means to send data to the internet, so this permission is not required to send data to the internet.

PAIR WITH BLUETOOTH DEVICES

Allows the app to view the configuration of Bluetooth on the device, and to make and accept connections with paired devices.

PHONE CALLS

READ PHONE STATUS AND IDENTITY

Allows the app to access the phone features of the device. This permission allows the app to determine the phone number and device IDs, whether a call is active, and the remote number connected by a call.

STORAGE

MODIFY OR DELETE THE CONTENTS OF YOUR USB STORAGE

Allows the app to write to the USB storage.

SYSTEM TOOLS

MODIFY SYSTEM SETTINGS

Allows the app to modify the system's settings data. Malicious apps may corrupt your system's configuration.

CONNECT AND DISCONNECT FROM WI-FI

Allows the app to connect to and disconnect from Wi-Fi access points and to make changes to device configuration for Wi-Fi networks.

ACCESS BLUETOOTH SETTINGS

Allows the app to configure the local Bluetooth device, and to discover and pair with remote devices.

PREVENT DEVICE FROM SLEEPING

Allows the app to prevent the device from going to sleep.
HARDWARE CONTROLS

CONTROL VIBRATION

Allows the app to control the vibrator.

NETWORK COMMUNICATION

VIEW WI-FI CONNECTIONS

Allows the app to view information about Wi-Fi networking, such as whether Wi-Fi is enabled and name of connected Wi-Fi devices.

VIEW NETWORK CONNECTIONS

Allows the app to view information about network connections such as which networks exist and are connected.

SYSTEM TOOLS

INSTALL SHORTCUTS

Allows an app to add shortcuts without user intervention.

SET WALLPAPER

Allows the app to set the system wallpaper.

UNINSTALL SHORTCUTS

Allows the app to remove shortcuts without user intervention.

DEFAULT

TEST ACCESS TO PROTECTED STORAGE

Allows the app to test a permission for USB storage that will be available on future devices.
VERSION:3.0.1
SIZE:3.77M
SPONSORED