Flib – a converter with memory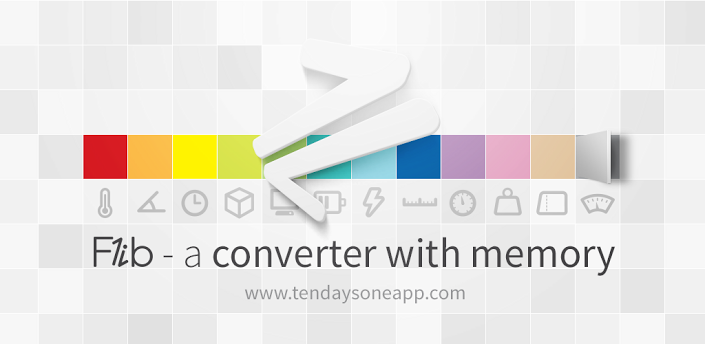 SPONSORED

Description
Flib will learn your preferences and auto arrange your frequent choices at the top of the list. It is probably the most beautiful, intelligent and simple converter app you have ever used. It is the first converter app that embraces a flat design style throughout, while at the same time providing a frictionless user experience. It is also the first product from Ten Days One App project.Why you should try Flib?
1. A new experience for selection
At most 12 choices at first glance without scrolling, save your time on searching
2. Remember your choice on categories and units
The category list and units conveniently rearrange to put your most popular choices at the top.
3. 12 Colors to choose
Say goodbye to the metallic style, you can choose your interface color, let Flib follow your style
Flib provides the following converters:
• Angle Converter
• Area Converter
• Base Converter
• Data Converter
• Energy Converter
• Length Converter
• Mass Converter
• Power Converter
• Pressure Converter
• Speed Converter
• Temperature Converter
• Time Converter
• Volume Converter
Visit tendaysoneapp.com for more information and be sure to check out the behind the scene posts/book of Flib.
App Screenshots
What's New
What's in this version:
1 – Streamlined transition (with faster flipping)
2 – European locale fix (special thanks to Barend)
3 – Added a "Want more" button for suggesting categories and units at the end of each list
Permissions
THIS APPLICATION HAS ACCESS TO THE FOLLOWING:
NETWORK COMMUNICATION

FULL NETWORK ACCESS

Allows the app to create network sockets and use custom network protocols. The browser and other applications provide means to send data to the internet, so this permission is not required to send data to the internet.
NETWORK COMMUNICATION

VIEW NETWORK CONNECTIONS

Allows the app to view information about network connections such as which networks exist and are connected.
VERSION:1.01
SIZE:606k
SPONSORED