ReadItToMe – Unique Handsfree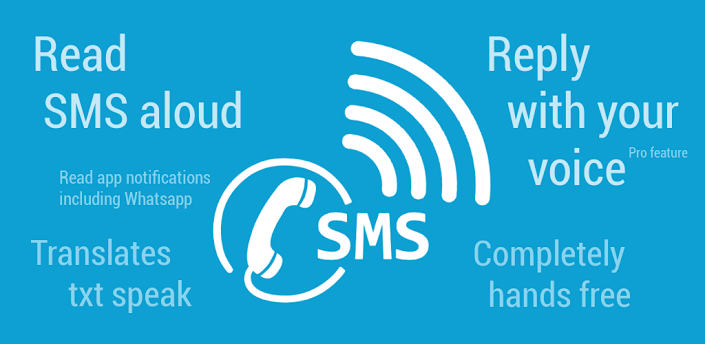 Description
ReadItToMe Pro
 reads out your incoming callers, sms messages and other app notifications, translating txt speak into normal language. In ANY language.It's great for use whilst driving, cycling, running, walking, in the gym or any other time you need to be handsfree.
Translates txt speak
ReadItToMe will translate your sms messages into proper english so you can understand what's being read. You can even add your own words and translations easily through the UI.
With ReadItToMe this:
SMS from John: Btw dat woz amazin, I dunno y I wasn't gonna go lol
Becomes This:
"New message received from John. By the way that was amazing, I don't know why I wasn't going to go laugh out loud"
Any Language
ReadItToMe supports ANY language as long as your TTS engine (and Voice engine) has that language installed.
If the default Android TTS doesn't support your language I'd recommend trying IVONA TTS.
Contact Blacklist
With ReadItToMe you are able to choose which contacts are read and when. You can choose to have specific contacts only read over headphones or bluetoth, or you can mute contacts so you are only notified of a message from that person but the message is not read aloud.
Profiles
ReadItToMe lets you set profiles based on what device your using. Maybe you want voice control over bluetooth but not headphones. Or you want to lower the music volume over headphones but pause the music over the speakerphone.
SPONSORED

Automatic
Unlike other applications ReadItToMe can be set to run automatically when you connect to a bluetooth device or you plug in your headphones, as well as over the speakerphone. You don't need to manually turn it on and off.
Voice Reply – PRO FEATURE
ReadItToMe Pro also has voice reply for sms messages so you can reply to or call that contact using your voice, completely hands free. Not only that but ReadItToMe Pro allows you to record your own commands for much better voice recognition.
Read app notifications aloud – PRO FEATURE
ReadItToMe Pro allows you to choose any app on your phone (ie Google Talk, Whatsapp etc) and it will read incoming notifications for that app (the same notifications you see in your status bar).
Feature List
– Read incoming sms
– Read incoming callers name
– Read incoming notifications from any other apps such as Google Talk or Whatsapp – PRO FEATURE
– Voice reply for sms – PRO FEATURE
– Read always
– Read only when bluetooth is connected
– Read only when headphones are connected
– Translate text speak before reading ie lol is translated to laugh out loud
– You can define your own translations of specific words
– Can reads sms over music (music volume is turned down and then back up afterwards)
– Icon in notification bar to show when it is running
– Fully customizable
Known issues and fixes
– GoSMS users go to your Settings, Advanced, Receive Settings, Disable other message Notifications. Uncheck that for this to work
– It uses the notification stream to read messages and calls by default, so if your phone is on silent you will hear nothing. However if you check the use music stream option it will use the music stream, in which case it will play at the media volume, so if your on silent you can still hear notifications.
– Anyone experiencing the issue where it reads on both speaker and headphones/bluetooth simultaneously use the music stream option. There is also the speaker fix option but this is experimental and will only work on some phones.
– For any other issues visit the faq at iamrobj.com/ritm_faq.html
Please don't leave negative feedback or a bad rating if you find a bug or if it does not work on your device as that won't help me fix it. Please email me with details of your issue and I will see if I can fix it.
And free to email me with any queries and feature requests. I'm always open to suggestions.
App Screenshots
Videos
What's New
What's in this version:
Version 1.2
– Improved contact recognition
– Fixed Google Hangouts compatibility
– Possible fix for not restarting service when its killed (bluetooth bug)
– Made some default phrases customizable
– Added option to cancel reading if volume down button is pressed
– Added option to not read caller name/number for SMS
Version 1.1.3
– Fixed sms contact being read as a random number – should now fix for everyone
Version 1.1.2
– Fixed sms contact being read as a random number
Permissions
THIS APPLICATION HAS ACCESS TO THE FOLLOWING:
YOUR MESSAGES

RECEIVE TEXT MESSAGES (SMS)

Allows the app to receive and process SMS messages. This means the app could monitor or delete messages sent to your device without showing them to you.

NETWORK COMMUNICATION

FULL NETWORK ACCESS

Allows the app to create network sockets and use custom network protocols. The browser and other applications provide means to send data to the internet, so this permission is not required to send data to the internet.

PHONE CALLS

READ PHONE STATUS AND IDENTITY

Allows the app to access the phone features of the device. This permission allows the app to determine the phone number and device IDs, whether a call is active, and the remote number connected by a call.

BLUETOOTH

PAIR WITH BLUETOOTH DEVICES

Allows the app to view the configuration of Bluetooth on the device, and to make and accept connections with paired devices.

YOUR SOCIAL INFORMATION

READ YOUR CONTACTS

Allows the app to read data about your contacts stored on your device, including the frequency with which you've called, emailed, or communicated in other ways with specific individuals. This permission allows apps to save your contact data, and malicious apps may share contact data without your knowledge.
NETWORK COMMUNICATION

VIEW NETWORK CONNECTIONS

Allows the app to view information about network connections such as which networks exist and are connected.

SYSTEM TOOLS

SEND STICKY BROADCAST

Allows the app to send sticky broadcasts, which remain after the broadcast ends. Excessive use may make the device slow or unstable by causing it to use too much memory.

YOUR APPLICATIONS INFORMATION

RUN AT STARTUP

Allows the app to have itself started as soon as the system has finished booting. This can make it take longer to start the device and allow the app to slow down the overall device by always running.

AUDIO SETTINGS

CHANGE YOUR AUDIO SETTINGS

Allows the app to modify global audio settings such as volume and which speaker is used for output.
VERSION:1.2
SIZE:394k
SPONSORED