Description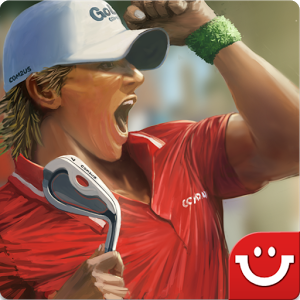 Experience the first real-time, multi-player mobile golf game!
Introducing Golf Star™, the greatest golf game you'll ever play, featuring realistic graphics, golfing techniques mastered by the pros, and a simulation powered by real physics-based gameplay. Play with golfers from all over the world!
You can play in English, 한국어, Deutsch, Français, Português, Español, 日本語, 中文简体, or 中文繁體. , Indonesia, ไทย.
Authorization Requests
1. Authority to save in the external storage will be requested.
(READ_EXTERNAL_STORAGE, WRITE_EXTERNAL_STORAGE)
2. Authority to access contacts and Google account information will be requested.
(GET_ACCOUNTS, READ_CONTACTS)
3. Authority to read the device information will be requested.
(READ_PHONE_STATE)
Stunning Graphics and True-to-Life Golf Physics!
– Golf Star features stunningly beautiful graphics unlike anything you've ever seen before.
– Experience the exhilaration of being on a real golf course!
– Terrain height, ball impact angle, wind, temperature, humidity, and up to 70 other factors implemented to perfectly capture the physics of a real swing.
Various Skills and Techniques
– We've captured the skills and techniques of real-life pro golfers.
– Become a pro golfer and choose from up to 10 techniques to use, including draw shots, fade shots, and chip shots.
Different Game Modes
– Career Mode: Play Single Player rounds and Quests, or compete in the NPC Tournament.
– Friend Match Mode: Play against your friends in real-time!
– 1:1 Tournament Mode: You can enjoy 1:1 Tournament on a real time basis with players from all around the world.
– Play with different rules each time in Event Tournaments.
– Skins Mode: Max. of 4 players will compete against each other to win each hole, and the winner will earn the prize money.
World Championship
– Participate in the weekly World Championship Match and claim victory to win awesome rewards!
– Win all the major tournaments for the ultimate grand slam!
Golf Tournaments!
– Play a new tournament every week and win prizes.
– Become the world's greatest Pro Golfer, and achieve the Grand Slam.
Guild System
– Create a Guild with users from all over the world!
– Work with your Guild members to become the No. 1 Guild!
– Compete against other Guilds to prove your skills!
Sponsor System
– Sign a contract with famous sponsors and increase your reliability.
– You'll be able to grow faster as a golfer with great sponsors to support you!
Hall of Fame
– Compete against players from all around the world and enter the Hall of Fame!
SPONSORED

Screenshots
What's New
Enjoy a round of golf with players from all over the world in Golf Star!
[New Content]
1. New Safari Course
2. New Skins Tournament
3. New Hall of Fame
4. New Title Icon
5. New Sky Shot & Punch Shot Skills
6. New Equipment Synthesis System
7. New highest SS Combination Grade
[Improvements]
1. New MAX level (Lv. 110)
2. 1:1 Tournament match system modified.
3. World Career has been modified.
Got feedback? Leave a review or visit http://www.withhive.com/help/inquire and drop us a line!
Permission
This app has access to:
find accounts on the device
find accounts on the device
read your contacts
read phone status and identity
read the contents of your USB storage
modify or delete the contents of your USB storage
read the contents of your USB storage
read the contents of your USB storage
modify or delete the contents of your USB storage
read the contents of your USB storage
read phone status and identity
receive data from Internet
modify battery statistics
control vibration
prevent device from sleeping
view network connections
full network access
connect and disconnect from Wi-Fi
Google Play license check
Size: 28 MB
Version: 4.0.0 
SPONSORED