Description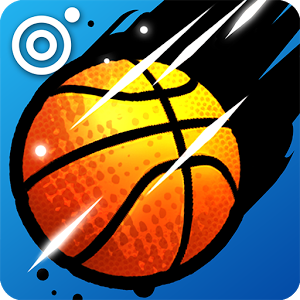 Incredible basketball throwing game using one-touch technology!
Realistic shots controlled with simple dragging!
Sharpen your basketball skills to reach the highest score and defeat your opponents in the Duel Mode!◈Update News◈
– Feb. 05, 2016: Skill added: Alley-oop Dunk! Your friend will recover your misses with this skill.
– Feb. 17, 2016: Added new characters/balls/backgrounds. Some UI changes and bug fixes implemented.
– Feb. 22, 2016: Basketball FX added.
– Mar 07, 2016: Some UI Change and Network System Update.
◈Upcoming Updated◈
– Lobby update: Creating courts in the Versus Mode for basketball duels with opponents of your choice will be available soon!
– More FX and cinematic updated coming soon.
– Additional characters/balls/backgrounds coming soon.
○ More updates will be heading your way soon. Thank you for all the excitement!———- Mode Descriptions ———–
◎Challenge Mode◎
– How many shots can you make without a time limit?
SPONSORED

◎Time Trial Mode◎
– Try to get the highest score within 60 seconds!
– 3 seconds earned for each clean shot!
– 3 consecutive clean shots plus another clean shot during the Fever Mode will grant you more time and points as rewards!
◎Versus Mode◎
– Beat your opponent in a real-time 1vs1 basketball match!
– Crush your opponents with dunks and clean shots of the Challenge/Time Trial Mode!
———– Buff Descriptions ———–
◇Wind Breaker◇
– Protects against "Wind!!" hazard that may occur in the game.
◇Coin X2◇
– Doubles the amount of gold earned.
The buffs above can be obtained by viewing the ads on the lower right side of the main menu.
However, there may be limits on how many times you can view the ads. (Example: 24 views per day from a single device) 
Screenshots
Permission
Version 1.40 can access:
read phone status and identity
read phone status and identity
full network access
view network connections
Size: 43 MB
Version:1.37
SPONSORED