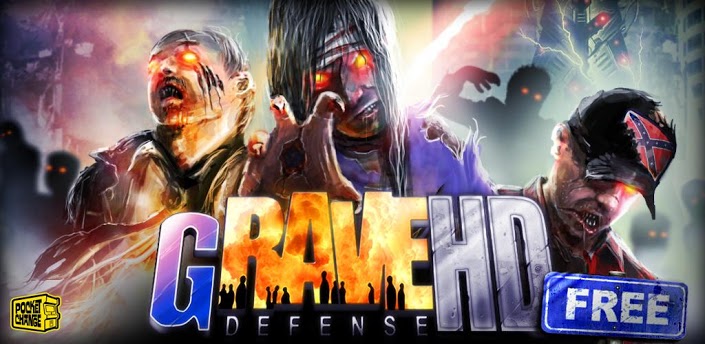 SPONSORED

Description
The Best App Ever Awards 2011 WINNER – The Best Adventure Game
POCKET GAMER BRONZE AWARD!ANDROIDCENTRAL.com: GRave Defense HD is a damn good tower defense game!
ANDROIDTAPP.com: GRave Defense HD an Extremely Addictive Tower Defense Game
ANDROIDPIT.com: GRave Defense HD – Tower Defense at its best!
* 12 HD Levels + 28 HD Levels unlockable for FREE!!!
*** In case of any issues just write to [email protected]. Thank you for support! ***
Grave Defense HD Free is the next step in the evolution of tower defense games for the mobile platform! It takes the best qualities from other tower defense games and adds many new features as well! It is an old-school hardcore game for Android only!
Grave Defense HD has something that all those "others" don't: A storyline! Follow the harrowing encounters of the Fellowship of Survivals with mutated zombies and formidable boss monsters!
A post-apocalyptic world destroyed by a nuclear war, hordes of zombies hunger for human flesh. But zombies aren't the only threats you'll encounter! Face off against some of History's most notorious baddies, like Dracula and Frankenstein! Obliterate mutant hordes across 40 levels using fire, electricity, lasers and more! Each battlefield is unique: Visit exotic locations like the Amazon Rainforest, the Bermuda Triangle and even an alien space! You must use your limited types of towers, some much more powerful than others, and evolving strategies and tactics to survive! Are you ready to be Humanity's last, best, and only chance for survival??? Lock and load soldier, and get ready for GRave Defense HD to blow your mind!!!
Why GRave Defense HD?
– Amazing high-res graphics! All levels, towers, mutants, special effects and achievements now in HD!!
– Military Ranks! Climb the militant ladder, all the way to the "Top"!
– Survival mode:
– More tower upgrades!
– Earn more points and get the High Score!
– Online ranking system!
– Four difficulty modes, from Casual to INSANE!!
App Screenshots
Videos
What's New
What's in this version:
New in 1.15.2:
+ Google Play game services integrated!
New in 1.15.0:
+ Total Casual and Normal difficulty re-balance!
+ NEW Bonus Campaign level: Easter Beasts (40th)
+ NEW mutants – Robbit and Easter Eggie
New in 1.13.1:
– Fixes of issues with Galaxy S III, Razr Maxx HD and several other devices support!
New in 1.13.0:
+ NEW Bonus Campaign level: Christmas Eve! (39th)
+ NEW mutants – Zombie Santa and Evil Elf
+ Possibility to buy Campaigns via in-app purchase
Permissions
THIS APPLICATION HAS ACCESS TO THE FOLLOWING:
NETWORK COMMUNICATION

FULL NETWORK ACCESS

Allows the app to create network sockets and use custom network protocols. The browser and other applications provide means to send data to the internet, so this permission is not required to send data to the internet.

PHONE CALLS

READ PHONE STATUS AND IDENTITY

Allows the app to access the phone features of the device. This permission allows the app to determine the phone number and device IDs, whether a call is active, and the remote number connected by a call.

STORAGE

MODIFY OR DELETE THE CONTENTS OF YOUR USB STORAGE

Allows the app to write to the USB storage.
YOUR ACCOUNTS

FIND ACCOUNTS ON THE DEVICE

Allows the app to get the list of accounts known by the device. This may include any accounts created by applications you have installed.

NETWORK COMMUNICATION

VIEW NETWORK CONNECTIONS

Allows the app to view information about network connections such as which networks exist and are connected.

SYSTEM TOOLS

TEST ACCESS TO PROTECTED STORAGE

Allows the app to test a permission for USB storage that will be available on future devices.

AFFECTS BATTERY

PREVENT DEVICE FROM SLEEPING

Allows the app to prevent the device from going to sleep.

CONTROL VIBRATION

Allows the app to control the vibrator.

AUDIO SETTINGS

CHANGE YOUR AUDIO SETTINGS

Allows the app to modify global audio settings such as volume and which speaker is used for output.
VERSION:1.15.2
SIZE:24M
SPONSORED