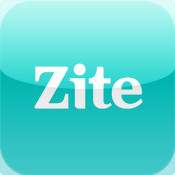 Description
Zite is an intelligent magazine that helps you discover interesting things to read.
Your Zite is as unique as you are. Zite learns what you like and gets smarter as you use it. Zite analyzes millions of articles each day and brings you the best of your favorite magazines, newspapers, authors, blogs, and videos.
Zite also helps you to discover content that you won't find elsewhere. Zite surfaces fresh voices, different perspectives and unique topics. With more than 40,000 topics to choose from, Zite will guide you to new interests when life gets stale – whether you want recipe ideas, the latest political news or to research an obscure interest.
SPONSORED

Finally, Zite's design combines beauty and brains. While Zite is fueled by a powerful discovery engine, we've focused on making Zite both clean and simple. You'll get all the benefit of our powerful technology wrapped in a beautiful design that's a joy to pick up every day.
Screenshots
Version:2.0.2
Size:5.7M
SPONSORED