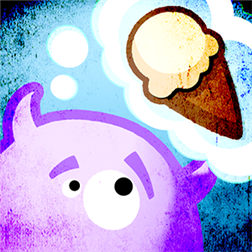 Description
It's a tough job selling ice creams in MonstR land.
Test your reaction time and keep your wits about you! It's not easy keeping calm with a horde of MonstRs rushing for your ice creams! You'll think it's easy at first, but then feel the addictive rush as you start to defend your ice cream cart.
2 game modes available in each level:
• Only have a few minutes? Play MonstR Frenzy where you only need to keep out 3 frenzy waves for a total of 3 minutes!
• OR for the ultimate scoring feast, play Endless Rainbow where the waves gradually get harder. It's all about how long you can survive in Endless Rainbow mode!
Do you have what it takes to be the best?! Don't panic and it will remain easy, but lose control and you'll be hearing the laughter of MonstRs running off with your ice creams in no time.
***************************************************
FEATURES
✓ Hi-res graphics
✓ Full multi-touch gameplay
✓ 2 game modes for short or lengthy play
✓ Cute MonstRs and animations
✓ Simple addictive play
✓ Deep scoring mechanics to discover
✓ In game Statistics – all sorts of interesting tidbits!
✓ 3 difficulty levels – suitable for kids to adults
✓ Please note this game does not require internet access and will run 100% without it
SPONSORED

***************************************************
HOW TO PLAY
Playing Hungry MonstR is simple!
The aim is to keep all MonstRs away from your ice cream cart.
Flick or drag the MonstRs into their matching colored tubes in the corners of the screen.
You can get rainbow power-ups to drop by performing a double (or triple, quad or above) rainbow move. Complete a full circle by flicking 2 of each colored MonstR into its matching tube without breaking the sequence. DOUBLE RAINBOW can be started from any tube, going clockwise or counter-clockwise.
***************************************************
Stay in touch with us:
www.blowfishstudios.com
Screenshots
Info
Download size
16 MB
App requires
phone identity
media playback
data services
movement and directional sensor
HD720P (720×1280)
WVGA (480×800)
WXGA (768×1280)
SPONSORED