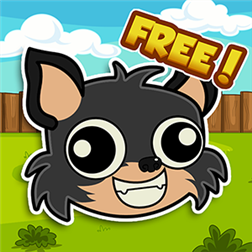 Description
Would you be a good pet owner and take care of your pets?
Do you like dogs? What about play, train, bath and feed your pet? You can own up to 4 pets at once and choose among 4 dog spitz: Poodle, Yorkshire, Brazilian Terrier and Pug.
This is a perfect game for children! They can learn how to be responsible while having fun taking care of their pets. If you have kids you must show this game for them!
In Pet Playground the main goal is to take care of your dog attending to their needs as they need to eat, drink, sleep and play exactly as a real dog!
Besides all the fun of taking care of your pets you can compete against your friends to see who is the best by browsing the World Ranking.
Be prepared to be entertained for months as you will have more than 100 achievements to complete!
SPONSORED

Pet Playground is the best virtual pet game ever for tablets and smartphones!
And these are the main reasons:
– Lots of ways to interact with your dog: training, feeding, healing.
– Your dog will have lots of needs like: eating, drinking, sleeping, playing.
– You can get items to spoil your pet such as: several types of beds, various water or food plates and also a lot of different toys.
– 4 different tricks to teach your dog.
– World Ranking.
– More than 100 achievements to complete.
If you have ever enjoyed playing Pou or Tamagotchi you'll gonna love Pet Playground!
This game is presented in English, Portuguese, Spanish and French version.
Facebook: fb.com/FrozenLogicStudios
E-mail: [email protected]
Screenshots
Info
Download size
15 MB
App requires
phone identity
media playback
data services
movement and directional sensor
HD720P (720×1280)
WVGA (480×800)
WXGA (768×1280)
Supported languages (6)
EnglishEnglish (United States)españolfrançaisPortuguêsportuguês (Brasil)
SPONSORED