Description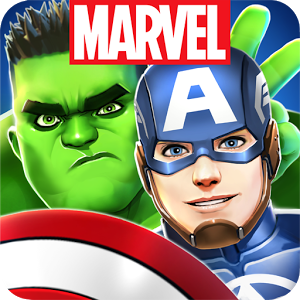 Experience the MARVEL Avengers as you've never seen them before! Build the ultimate Super Hero academy, and play as your favorite Avengers characters reimagined as students developing their superpowers. Enroll today and become a hero!
Hydra is at it again. In light of a recent attack that defeated S.H.I.E.L.D., Director Nick Fury has founded Avengers Academy. The goal: to teach young heroes how to develop their unique abilities and triumph over evil. A young Iron Man is the first to sign up and ready to recruit new heroes, such as Wasp, Thor, Loki, Captain America, Black Widow, and Hulk, to defeat Hydra. But all is not perfect on the Avengers Academy campus. A mysterious "timefog" surrounds the Academy, which raises even more uncertainty for the burgeoning young heroes. Dive into the MARVEL Avengers Academy world to meet your heroes, defeat Hydra, and uncover the truth behind it all.
DISCOVER A NEW MARVEL AVENGERS WORLD
– Experience your favorite MARVEL Avengers heroes and villains as young adults
– Play as Iron Man, Thor, Black Widow, Hulk, Loki, Captain America and more!
– Develop their iconic powers at Super Hero academy
EXPERIENCE CAMPUS LIFE
– Live true campus life as a MARVEL student
– Go on dates and confront rival cliques
– Navigate the social ups and downs of your characters' lives
BUILD YOUR DREAM ACADEMY
– Create the ultimate Super Hero campus
– Construct dorms, classrooms and labs for your MARVEL Avengers
– Fill your campus with training facilities, sports stadiums and more
POWER-UP YOUR TEAM
– Strengthen your MARVEL Avengers team and upgrade their powers!
– Send them to activities, sporting events, class and training sessions
EMBARK ON NEW ADVENTURES
– Go on exciting missions and battle epic foes
– Interact with other characters from the MARVEL universe
– Participate in events and updates that introduce thrilling new storylines and quests. 
SPONSORED

Screenshots
What's New
V1.0.12
* Fixed a large range of bugs including crashes after viewing a game cutscene
* Improved the game's performance
* Prepared the Academy for new levels, characters & events!
Permission
This app has access to:
find accounts on the device
find accounts on the device
read phone status and identity
modify or delete the contents of your USB storage
read the contents of your USB storage
modify or delete the contents of your USB storage
read the contents of your USB storage
read phone status and identity
receive data from Internet
install shortcuts
control vibration
run at startup
use accounts on the device
prevent device from sleeping
view network connections
full network access
Google Play license check
Size: 91 MB
Version: 1.0.11
SPONSORED