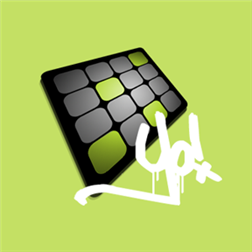 Description
Beats Yo! is an advanced drum machine for Windows Phone; geared towards both fun and creativity it's the perfect app to scratch that beatmaking itch!
Select a track and record 4 bars of your phattest beats triggering samples from the 16 provided pads; Beats Yo! will automatically loop allowing you to expand upon and manipulate your work in real time.
SPONSORED

• 16 pads; just like your favourite Midi Controller
• 4 track recording; Beats Yo! gives you four banks to record loops to! Chop and change as it's playing to really mix it up.
• Mute controls for each track; manipulate your recorded loops in real time!
• Adjustable BPM
• Metronome; keep your timing when you start your beat and then switch it off when you don't need it!
• Three real-time quantize modes; correct those missed beats!
• Ability to Save and Load projects.
• Export your 4 bar beat to mp3 and save to your phones Media Library!*
• One free complete custom kit to get you going; more kits are available via in app purchases.
Beats Yo! is the tool; the only limit is your creativity!
Note: Beats Yo! is not intended to be a professional level production tool; it's for entertainment purposes only. So have fun!
*This means that you can play your beats via the phones Music App. You may hear a click at the start when playing via the Music App; this click is not in the mp3, it is a bug with the Music App. You can transfer your mp3s to your PC by plugging in your phone and browsing to the 'Music' folder. All your beats will be under the folder called 'Beats Yo'.
Screenshots
Info
Download size
6 MB
App requires
media playback
data services
movement and directional sensor
HD720P (720×1280)
WVGA (480×800)
WXGA (768×1280)
SPONSORED