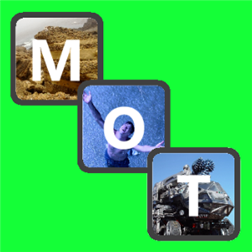 Description
There's 40 seconds on the clock. It's you against EVERYONE. Do you have what it takes to become the master?
SPONSORED

Masters of Trivia is a real time multi-player picture trivia game.
A new game starts every 60 seconds and you have 40 seconds to answer the questions.
Every week, a Master of Trivia is crowned and added to the list of masters.
download the game, start playing now and get your name on that list
Have suggestions? Want us to add another category? Send us feedback on motgame.uservoice.com or on twitter @MoTGame
hint: speedy fingers help
May the best one win
Screenshots
Info
Download size
6 MB
App requires
phone identity
owner identity
media playback
data services
movement and directional sensor
HD720P (720×1280)
WVGA (480×800)
WXGA (768×1280)
SPONSORED