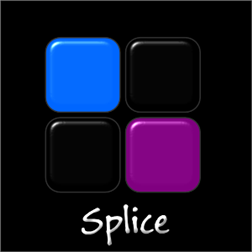 Description
Splice is a fun board brain teaser.
Challenge yourself by 3 degrees of difficulty if you like to play by yourself.
Hovewer some of us likes better to beat other players in online leaderboards.
Gameplay is based on connecting arrows of same color within 2D rubic cube like enviroment.
Our game features nice graphics with smooth user controls.
Features
SPONSORED

– 95 levels and working on more
– online leaderboards
– 3 degrees of difficulty (easy – 3×3 board size, normal – 4×4 board size, hard 5×5 board size)
– nice graphics and sounds
Screenshots
Info
Download size
8 MB
Works with
Windows Phone 8
Windows Phone 7.5
App requires
phone identity
owner identity
photo, music, and video libraries
data services
HD720P (720×1280)
WVGA (480×800)
WXGA (768×1280)
Supported languages (1)
SPONSORED