Description: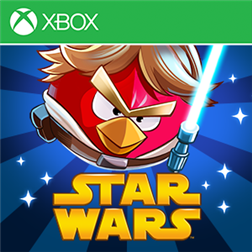 JOIN THE ANGRY BIRDS IN THEIR BIGGEST ADVENTURE YET!
A long time ago in a galaxy far, far away… a group of desperate rebel birds faced off against a galactic menace: the Empire's evil Pigtroopers!
Rebel birds, striking from a hidden base, have won their first victory against the evil Imperial Pigs. During the battle, Rebel spies managed to steal secret plans to the Empire's ultimate weapon, the PIG STAR, and are racing to deliver the plans to the rebel birds. Now they need your help!
Join an epic adventure with the Angry Birds in the legendary Star Wars universe! Use the Force, wield your lightsaber, and blast away Pigtroopers on an intergalactic journey from the deserts of Tatooine to the depths of the Pig Star — where you'll face off against the terrifying Darth Vader! Can you become a Jedi master and restore freedom to the galaxy?
SPONSORED

Time to grab your lightsaber and join the adventure! May the birds be with you!
HOURS AND HOURS OF ENGAGING GAMEPLAY – Explore more than 80 levels in iconic locations like Tatooine and Death Star. Can you dodge Imperial pigs, laser turrets, sand people, and the dark side the force to get all three stars?
NEW GAMEPLAY MECHANICS – Use lightsabers, Blasters and Jedi powers to wreak havoc on the Imperial Pigs!
LEVEL UP YOUR BIRDS – Keep playing and level up your birds to improve their skills!
SECRETS AND HIDDEN GOODIES – Can you unlock all the R2D2 and C3PO bonus levels?
WHATS NEW:
Explore Cloud City in an all new episode and battle your way through 20 new levels!
Unlock the new Boba Fett Missions by collecting all hidden rocket packs!
Follow @angrybirds on Twitter
Watch the videos, read the comics and submit fan art at angrybirds.com/starwars
Like us at facebook.com/angrybirds and say hello!
Terms of Use: http://www.rovio.com/eula
Privacy Policy: http://www.rovio.com/privacy
Screenshots:
Info:
Download size
29 MB
App requires
Xbox
media playback
data services
HD720P (720×1280)
WVGA (480×800)
WXGA (768×1280)
SPONSORED