Mobikwik Mobile Recharge and Bill Pay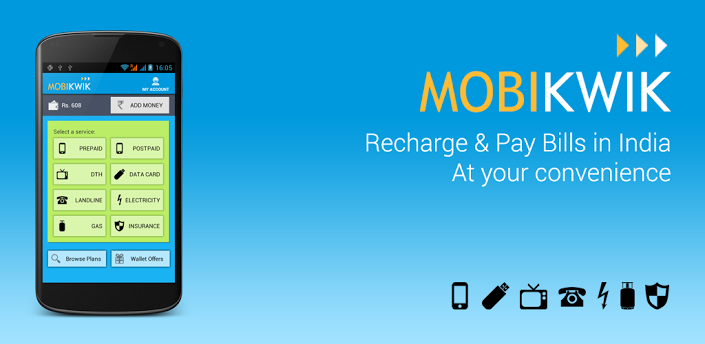 Description
** MobiKwik is the highest rated Recharge App in India Avg rating – 4.64**Use Promo Code MOBIANDROID to get Free Rs. 10 in your account after registration.MobiKwik Android App provides the best Mobile Recharge and Bill payment experience on the go.
Services:
– Prepaid mobile recharge
– Postpaid mobile recharge
– DTH (Satellite TV) recharge
– Data Card recharge
– Electricity Bill Payment
– Landline Bill Payment
– Gas Bill payment
– Life Insurance Policy payment
Key Features:
– The app is small size, fast and light on your mobile phone CPU and bandwidth consumption
– Park money into your Mobikwik wallet and make simple, fast, hassle free payments without hopping between merchants, payment gateways, banks, then back, then back. Pay in one click!
– Lots of payment options. Whether you use credit card, debit card or netbanking we support them all. You don't use either of them? Use CashPay to pay at your doorstep and recharge or pay your bills.
– Directly pick contacts from contact list to recharge.
– Browse Plans of mobile operators like Airtel, Vodafone, Idea, etc.
We make sure that you stay connected and entertained, it does not matter if you are comfortably sitting in your living room in Mumbai, or having a vacation in Munnar (Kerela), or out on a business meeting in Pithmpur.
If your landline/electricity/insurance/gas company is not listed in the app, give us sometime we're on it!
Permissions required:
– Internet
This application requires access to Data services via GPRS/Edge/3G/Wifi. The application response depends on quality of carriers data services.
– Contacts
On popular demand, we have added feature using which you can recharge phone numbers in your contact list easily without needing to type the full number!
SPONSORED

As an added benefit you can also use SMS to pay once you have updated the Mobikwik Wallet.
For any queries or help, please visit Mobikwik customer support athttp://www.mobikwik.com/help
We are glad to help you.
Terms of service:
By signing up with Mobikwik via Android APP, the customer accepts that MobiKwik may send the alerts to the mobile phone number provided by the customer while registering for the service or to any such number replaced and informed by the customer. The customer acknowledges that the alerts will be received only if the mobile phone is in 'On' mode to receive the SMS. If the mobile phone is in 'Off' mode then the customer may not get / get after delay any alerts sent during such period.
Tags: Mobile Recharge, Online Recharge, Free Recharge, DTH Recharge, Data Card Recharge, Landline bill payment, Electricity bill payment, Gas bill payment, Insurance policy payment, Android, Coupons, Offers
App Screenshots
What's New
What's in this version:
Version 3.1
– Cash Pay is now working perfectly!
– Now you can also add Electricity/Landline/Gas/Insurance to your saved connections for easy recharge!
– Lots of Performance enhancements
– Lots of Bug Fixes
Version 3.0 contains:
– Transactions History
– Saved Connections
– Customer Support
– UI redesign (compact and cleaner interface)
– Lots of Bug Fixes
Let us know what you think about the changes and new features!
Permissions
THIS APPLICATION HAS ACCESS TO THE FOLLOWING:
NETWORK COMMUNICATION

FULL NETWORK ACCESS

Allows the app to create network sockets and use custom network protocols. The browser and other applications provide means to send data to the internet, so this permission is not required to send data to the internet.

PHONE CALLS

READ PHONE STATUS AND IDENTITY

Allows the app to access the phone features of the device. This permission allows the app to determine the phone number and device IDs, whether a call is active, and the remote number connected by a call.

YOUR SOCIAL INFORMATION

READ YOUR CONTACTS

Allows the app to read data about your contacts stored on your device, including the frequency with which you've called, emailed, or communicated in other ways with specific individuals. This permission allows apps to save your contact data, and malicious apps may share contact data without your knowledge.
YOUR ACCOUNTS

FIND ACCOUNTS ON THE DEVICE

Allows the app to get the list of accounts known by the device. This may include any accounts created by applications you have installed.

NETWORK COMMUNICATION

RECEIVE DATA FROM INTERNET

Allows apps to accept cloud to device messages sent by the app's service. Using this service will incur data usage. Malicious apps could cause excess data usage.

VIEW NETWORK CONNECTIONS

Allows the app to view information about network connections such as which networks exist and are connected.

AFFECTS BATTERY

PREVENT DEVICE FROM SLEEPING

Allows the app to prevent the device from going to sleep.
VERSION:3.1
SIZE:587k
SPONSORED