Muzy – Share photos & collages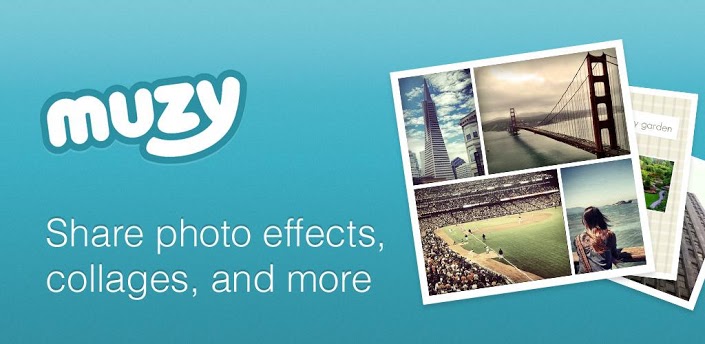 Description
Over 20 million people use Muzy as the free, all-in-one way to share their creative side. Instantly share to Facebook, Instagram, Twitter, email, SMS, or just save it for later.Muzy combines your favorite creative tools for photos, collages, status messages, and more:
• Collage photos from Facebook, your camera roll, and the Internet together with text and backgrounds
• Frame your pics with dozens of classic layouts
• Add gorgeous effects to any photo to make them vintage, sepia, black and white, and more
• Write a status message with custom fonts
It's completely free, and has unlimited uploads and storage.
Join over 20 million people on Muzy:
• Share your creative side
• Get likes and comments from millions
• Publish instantly to Facebook, Instagram, Twitter, email, SMS, and more
• Add your friends and see what they post to Muzy
Muzy is creative, fun, and easy to use – try it out!
App Screenshots
What's New
What's in this version:
SPONSORED

• Big improvements to the Photo Editor app! New Focus and Splash tools, plus lots of other bug fixes and improvements to the other tools.
Permissions
THIS APPLICATION HAS ACCESS TO THE FOLLOWING:
YOUR MESSAGES

SEND SMS MESSAGES

Allows the app to send SMS messages. This may result in unexpected charges. Malicious apps may cost you money by sending messages without your confirmation.

READ YOUR TEXT MESSAGES (SMS OR MMS)

Allows the app to read SMS messages stored on your device or SIM card. This allows the app to read all SMS messages, regardless of content or confidentiality.

NETWORK COMMUNICATION

FULL NETWORK ACCESS

Allows the app to create network sockets and use custom network protocols. The browser and other applications provide means to send data to the internet, so this permission is not required to send data to the internet.

PHONE CALLS

READ PHONE STATUS AND IDENTITY

Allows the app to access the phone features of the device. This permission allows the app to determine the phone number and device IDs, whether a call is active, and the remote number connected by a call.

STORAGE

MODIFY OR DELETE THE CONTENTS OF YOUR USB STORAGE

Allows the app to write to the USB storage.

YOUR SOCIAL INFORMATION

READ YOUR CONTACTS

Allows the app to read data about your contacts stored on your device, including the frequency with which you've called, emailed, or communicated in other ways with specific individuals. This permission allows apps to save your contact data, and malicious apps may share contact data without your knowledge.
YOUR ACCOUNTS

FIND ACCOUNTS ON THE DEVICE

Allows the app to get the list of accounts known by the device. This may include any accounts created by applications you have installed.

NETWORK COMMUNICATION

RECEIVE DATA FROM INTERNET

Allows apps to accept cloud to device messages sent by the app's service. Using this service will incur data usage. Malicious apps could cause excess data usage.

SYSTEM TOOLS

TEST ACCESS TO PROTECTED STORAGE

Allows the app to test a permission for USB storage that will be available on future devices.

AFFECTS BATTERY

PREVENT DEVICE FROM SLEEPING

Allows the app to prevent the device from going to sleep.

CONTROL VIBRATION

Allows the app to control the vibrator.
VERSION:3.6
SIZE:7.6M
SPONSORED