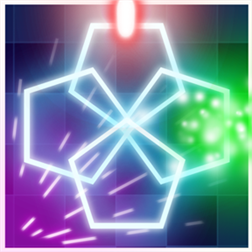 Description
Neonize is an extremely addicting and challenging mobile arcade shooter game!
The goal is to survive an onslaught of enemy ships trying to ram into you. Ships attack you fast from one of four directions in a pattern. The key to surviving is memorizing the pattern and shooting them down one after another. How far can you get?
SPONSORED

FEATURES:
-Fast game sessions for a quick burst of fun and challenging for the experienced player
-3 Fast Paced Levels, each significantly more challenging than the last
-Easy control scheme with 4 shooting buttons to shoot in all possible enemy directions
-Eye-catching neon light based, geometry inspired art style
It seems impossible, but it will take major skill and dedication to beat this game.
Only a few will claim their Neonized glory.
Do you have what it takes to get Neonized?
—————————————-­—————————-
Defenestrate Studios is an independent video game development company. For more information, visit our site:
http://www.defenestratestudios.com
Follow us on Facebook and Twitter:
http://www.facebook.com/DefenestrateStudios
http://www.twitter.com/DefenestrateSt
—————————–
With thanks to freesound.org member for this sound effect
169375__yoh__whoosh-crystal-reverse-yoh (1)
Screenshots
Info
Works with
Windows Phone 8.1
Windows Phone 8
App requires
owner identity
music library
photos library
media playback
data services
phone dialer
movement and directional sensor
web browser component
HD720P (720×1280)
WVGA (480×800)
WXGA (768×1280)
SPONSORED