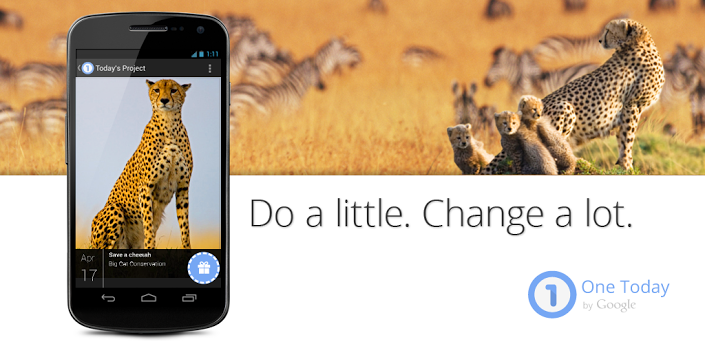 Description
One Today is a mobile app that brings together people and nonprofits through the simple act of giving $1.One Today will present you with a new project every day from a nonprofit that is changing the world. You can donate to the projects that inspire you with just one click. Amplify your impact by sharing your donations with your friends on social media and matching their contributions to your favorite projects.Visit google.com/onetoday to learn more.
App Screenshots
What's New
What's in this version:
SPONSORED

This version is open to everyone, no more invitation required!
It uses less memory and requires additional permissions for easier payments.
Permissions
THIS APPLICATION HAS ACCESS TO THE FOLLOWING:
YOUR ACCOUNTS

USE ACCOUNTS ON THE DEVICE

Allows the app to request authentication tokens.

CREATE ACCOUNTS AND SET PASSWORDS

Allows the app to use the account authenticator capabilities of the AccountManager, including creating accounts and getting and setting their passwords.

YOUR LOCATION

APPROXIMATE LOCATION (NETWORK-BASED)

Allows the app to get your approximate location. This location is derived by location services using network location sources such as cell towers and Wi-Fi. These location services must be turned on and available to your device for the app to use them. Apps may use this to determine approximately where you are.

NETWORK COMMUNICATION

FULL NETWORK ACCESS

Allows the app to create network sockets and use custom network protocols. The browser and other applications provide means to send data to the internet, so this permission is not required to send data to the internet.

PHONE CALLS

READ PHONE STATUS AND IDENTITY

Allows the app to access the phone features of the device. This permission allows the app to determine the phone number and device IDs, whether a call is active, and the remote number connected by a call.

STORAGE

MODIFY OR DELETE THE CONTENTS OF YOUR USB STORAGE

Allows the app to write to the USB storage.
YOUR ACCOUNTS

FIND ACCOUNTS ON THE DEVICE

Allows the app to get the list of accounts known by the device. This may include any accounts created by applications you have installed.

READ GOOGLE SERVICE CONFIGURATION

Allows this app to read Google service configuration data.

NETWORK COMMUNICATION

VIEW NETWORK CONNECTIONS

Allows the app to view information about network connections such as which networks exist and are connected.

SYSTEM TOOLS

TEST ACCESS TO PROTECTED STORAGE

Allows the app to test a permission for USB storage that will be available on future devices.

AFFECTS BATTERY

CONTROL VIBRATION

Allows the app to control the vibrator.

PREVENT DEVICE FROM SLEEPING

Allows the app to prevent the device from going to sleep.

YOUR APPLICATIONS INFORMATION

RUN AT STARTUP

Allows the app to have itself started as soon as the system has finished booting. This can make it take longer to start the device and allow the app to slow down the overall device by always running.
Version:1.1.3
Size:3M
SPONSORED