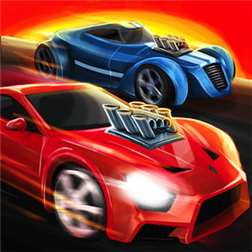 Description
Time to heat up that engine: welcome to the roaring world of Hot Rod Racers!
Challenge fierce street racers in exciting drag racing events! No kidding around – you'll have to bring your A-game.
Use any means necessary to win: crash into your opponent's car and show how badly you want to win! Experience different gameplay modes, including dodging traffic cones, jumping off ramps, racing against the clock and more.
Earn tons of coins and upgrade your cars to build the best racing machine possible. Got an engine upgrade? Show it off and enjoy your car's improved performance. There are also a variety of paint jobs and decals, to show off your hot rod at its hottest!
Are you ready to become King of the road?
KEY FEATURES:
• A detailed hot rod world set in a 3D urban landscape
• 13 different episodes to complete
• Lots of crazy characters to encounter
• Ground-breaking physics: crash into your opponent's car to slow him down
• Different gameplay modes: dodge traffic cones, jump off ramps, avoid walls and more…
• Upgrade your vehicle's components and aesthetics to make it look even cooler
SPONSORED

****************************************
Find out more about Miniclip:
http://www.miniclip.com
Screenshots
Info
Publisher
Miniclip SA
App requires
phone identity
media playback
data services
movement and directional sensor
HD720P (720×1280)
WVGA (480×800)
WXGA (768×1280)
SPONSORED