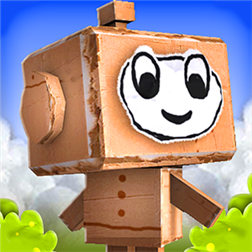 Description
USA TODAY
"From the gameplay to presentation to control, Paper Monsters is a real treat"
IGN
"Crescent Moon's Paper Monsters is one of the prettiest games to hit the App Store in a long time."
G4TV.com
"The controls are masterfully crafted"
"a fresh, original soundtrack add those special touches to an already solid game"
GIZMODO UK – Gaming App of the Day
"Paper Monsters is a well-balanced little adventure, pretty to look at, and a nice diversion on a Friday afternoon"
SPONSORED

TOUCH ARCADE
"Paper Monsters is an incredibly fun platformer, and it's downright gorgeous to look at"
APPADVICE.com
"Paper Monsters Redefines The Boundaries Of Side Scrolling Adventures"
GAMEZEBO
"For lack of a better word, it's perfect. Everyone should play this"
SLIDE TO PLAY
"This traditional platformer is as gorgeous as they come."
–DESCRIPTION–
Introductory Sale — 50% off– for a limited time to celebrate our release on Windows Phone!!!
Dive into the world of Paper Monsters and watch a living world made out of paper, cardboard, and a few cotton balls unfold right before your eyes.
Paper Monsters takes all of the classic 2d platforming elements, combines them with cutting edge graphics and then packs it onto your Windows Phone.
–FEATURES–
•Classic 2d sidescrolling gameplay with gorgeous 3d environments.
•Original and adorable characters
•Awesome original soundtrack – headphones recommended!
•Fun under water and flying powerups.
•Two control types: "floating" Joystick or classic touch pad
•28 Large Levels across 6 unique worlds
•Tons of secret areas!
•High score dash mode for endless replay value!
•Fun for all ages
Screenshots
Videos
Info
Publisher
Mobot Studios, Inc.
App requires
phone identity
media playback
data services
movement and directional sensor
HD720P (720×1280)
WVGA (480×800)
WXGA (768×1280)
SPONSORED