Description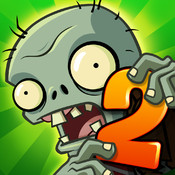 The zombies are coming… back. It's about time! The sequel to the hit action-strategy adventure with over 30 Game of the Year awards is here. Join Crazy Dave on a crazy adventure where you'll meet, greet and defeat legions of zombies from the dawn of time to the end of days. Amass an army of powerful new plants, super charge them with Plant Food and power up your defenses with amazing new ways to protect your brain.
SPONSORED

"This is a remarkable sequel: 9 out of 10." – Edge Magazine
"As beautifully presented as it is absorbing to play: 8.7 out of 10." – ign.com
Game Features
NEW PLANTS! NEW ZOMBIES!
Meet Bonk Choy, Bloomerang and Lightning Reed: Just a few of the powerful new plants that will defend your lawn through time. Go toe-to-missing-toe with dozens of new zombies including Ra Zombie in Ancient Egypt, Swashbuckler Zombie on the Pirate Seas, or Chicken Wrangler Zombie in the Wild West. In every new world, clever new zombies and brain-teasing challenges will test your zombie-zapping skills.
AMAZING NEW WAYS TO PROTECT YOUR BRAIN
New Plant Food and power-ups will take your game to new dimensions. Plant Food will supercharge your plants when you need it most. Use your fingers to pinch, flick and zap zombies off your lawn.
LOOK OUT! ZOMBIE CHICKENS!
Seriously.
NEW LEVELS OF EXCITEMENT
Battle the fun-dead on land, on sea and… on the rails? Unlock ultra-challenging (and ultra-fun) endless levels — Pyramid of Doom, Pirate's Booty and the Big Bad Butte.
THE FUN NEVER DIES
Gather keys to unlock brain teasers and new plants. Collect coins to purchase potent power-ups. Earn stars to take you to new worlds. Survive long enough and you'll be rewarded with piles of prizes and achievements. And that's just the beginning! The future holds many mysteries. Also, zombies. Lots and lots of zombies.
Screenshots
What's New in Version 1.5.252123
In this update we've added a whole new mighty mini-game, the Piñata Party, and other awesome features to improve gameplay! Changes include:
Category: Games
Version: 1.5.252123
Size: 54.4 MB
Language: English
Developer: PopCap
©2013 Electronic Arts Inc. Plants vs. Zombies, PopCap, EA and the EA logo are trademarks of Electronic Arts Inc.
Rated 9+ for the following:
Infrequent/Mild Horror/Fear Themes
Infrequent/Mild Cartoon or Fantasy Violence
Compatibility: Requires iOS 5.1 or later. Compatible with iPhone 4, iPhone 4S, iPhone 5, iPhone 5c, iPhone 5s, iPad 2 Wi-Fi, iPad 2 Wi-Fi + 3G, iPad Wi-Fi (3rd generation), iPad Wi-Fi + Cellular (3rd generation), iPad Wi-Fi (4th generation), iPad Wi-Fi + Cellular (4th generation), iPad mini Wi-Fi, iPad mini Wi-Fi + Cellular, iPad Air, iPad Air Wi-Fi + Cellular, iPad mini with Retina display, iPad mini with Retina display Wi-Fi + Cellular, iPod touch (4th generation), and iPod touch (5th generation). This app is optimized for iPhone 5.
SPONSORED