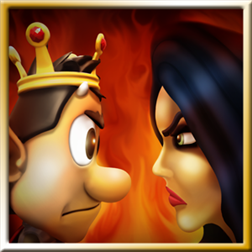 SPONSORED

Description
A very long time ago in the far north, a witch did something unpleasant to a troll and, before they knew it, they were at war…
Troll Wars is an epic online combat strategy game with an entertaining and addictive mixture of strategic planning and competitive combat. Pledge your allegiance to Hugo or Scylla and fight for glory and riches by building and upgrading your own village, raise your army of Warriors, Wizards, Dragons and other mighty creatures and battle against thousands of other players online!
Stand united with others by joining Alliances or create your own Alliance to benefit from the many advantages like cooperative attacks and troop donations.
Reclaim your homelands and drive the enemy back in the Single Player campaign and unlock powerful allies to bolster your defenses and aid you in the frenzied multiplayer battles.
Features:
• Choose your enemy: trolls or witches!
• Build and upgrade your village and turn it into an impenetrable fortress.
• Battle against other players worldwide and claim their Relics for your own.
• Join forces with other players to form powerful Alliances or create your own.
• Join forces with your allies in Cooperative battles and confront powerful enemies that you would never be able to face alone.
• Collect daily Battle Cards and gain an extra advantage.
• Assemble your army of over 10 unique Warriors with multiple levels of upgrades.
• Enlist additional Mercenaries and Bannermen to champion your cause.
• Defend your village with cannons, archer towers, mortars, bombs, traps and walls.
• Fight against the enemy in Single Player campaigns to claim new lands and gain new allies for your cause.
PLEASE NOTE: Troll Wars is free to download and play for an unlimited duration, but also supports optional purchases for real money. If you do not want to use this feature, please disable in-app purchases in your device settings.
A network connection is required to play.
Screenshots
Info
Publisher
Hugo Games
App requires
phone identity
media playback
data services
movement and directional sensor
HD720P (720×1280)
WXGA (768×1280)
WVGA (480×800)
Supported languages (13)
danskDeutschEnglishEnglish (United States)españolsuomifrançaisitalianoNederlandsPortuguêsрусскийsvenskaTürkçe
SPONSORED