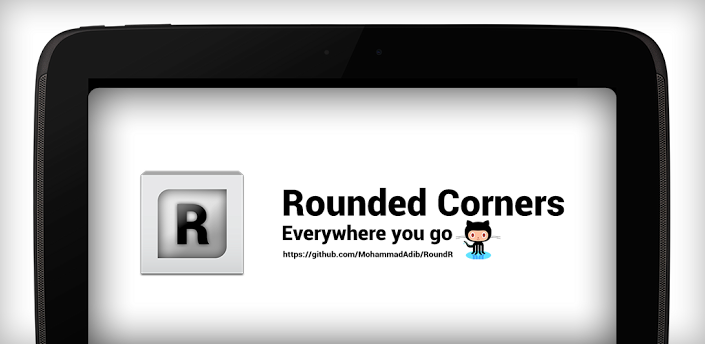 SPONSORED

Description
Introducing RoundR
RoundR is an open source application that rounds the corners of your screen!
Functionality
RoundR features full settings which allow for adjusting the radius of the corners, as well as specifying which corners to enable or disable.
Source Code
RoundR is open source! RoundR uses Mark Wei's brilliant StandOut library to display the four corners on top of all other applicatins. The source code for Mark's library (tweaked) & RoundR can be found on GitHub: 
https://github.com/MohammadAdib/RoundR
Development
Follow the development on XDA: http://forum.xda-developers.com/showthread.php?t=1688531
App Screenshots
Videos
What's New
What's in this version:
Major Breakthrough v2.5.0
– Fixed bug with fullscreen YouTube and fullscreen video players
– Battery usage minimized greatly
Update v2.0.0
– Final optimizations
– Added setting to prevent overlapping notification bar
Update v1.9.9
– Lock screen support
– Touch underneath corners
– Update radius as changing
Permissions
THIS APPLICATION HAS ACCESS TO THE FOLLOWING:
OTHER APPLICATION UI

DRAW OVER OTHER APPS

Allows the app to draw on top of other applications or parts of the user interface. They may interfere with your use of the interface in any application, or change what you think you are seeing in other applications.
YOUR APPLICATIONS INFORMATION

RUN AT STARTUP

Allows the app to have itself started as soon as the system has finished booting. This can make it take longer to start the device and allow the app to slow down the overall device by always running.
VERSION:2.5.0.1
SIZE:69k
SPONSORED