Description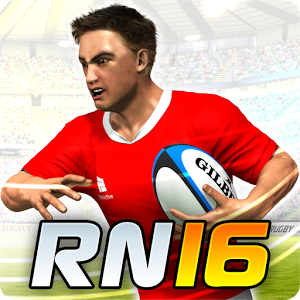 Celebrate the Six Nations tournament in style with the most realistic Rugby game on mobile – Rugby Nations 16!Live events and fantastic new gameplay will get you into the celebratory spirit just in time for Rugby's greatest championship. Brand new TOUCH CONTROLS will allow you to play Rugby like never before on mobile, easy to use for even the newest of players.
Optimized Phoenix™ technology drives fantastic 3D visuals, enhanced gameplay and slick animations to deliver the most atmospheric Rugby experience on Google Play. With fully loaded tournaments, new challenges and a captivating career mode it delivers all the authenticity of Rugby Union
SIX NATIONS LIVE GAMES
Don't miss a moment of Six Nations and play along with a special LIVE GAMES tournament. Earn points for your Six Nations team and lead them to victory whilst enjoying much improved celebration and try scoring animations.
SPONSORED

RUGBY TOURNAMENT FEVER!
Experience the thrill and excitement of real Rugby with International tournaments, challenges and the World Cup. Gameplay has never felt so real with enhanced tackle momentum, atmospheric crowds and official licensed content. Authentic pre-match build up and brand new commentary make you feel like you're a part of the squad.
CONTROL EVERY MOVE WITH EASE
New TOUCH controls allow you to master every move and try with ease. Whether you are a seasoned Rugby gaming pro or just getting started, a touch is all you need to reign supreme.
TAUNT, SUPPORT, SHARE
Push your team to the top by rounding up Facebook friends for support or destroy your enemy by sending them taunts. Climb your way to the top of the leaderboard and become a global Top Influencer. Share your success and get the latest Rugby highlights on Twitter using #RN16.
Get involved with all things Rugby
Facebook.com/rugbynations
Tweet us: @distinctivegame #RN16
Screenshots
What's New
Celebrate the Six Nations tournament in style with NEW Six Nations LIVE GAMES!
Permission
modify or delete the contents of your USB storage
read the contents of your USB storage
modify or delete the contents of your USB storage
read the contents of your USB storage
change your audio settings
full network access
prevent device from sleeping
view network connections
Google Play license check
Size: 44 MB
Version: 1.0.5
SPONSORED