Description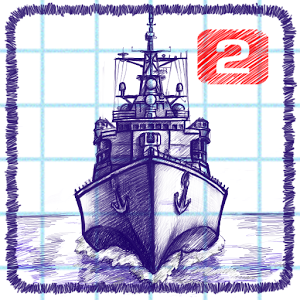 Sea Battle 2 is the game we've all known since childhood, now with new features and an extended arsenal! Millions of people around the world play this game. You will have ships, planes, submarines, mines, radars and much more at your disposal. Place your ships on the board, attack the opponent's positions, and use your vast arsenal to sink the opponent's ships. Create your own strategy and don't leave your opponents a single chance!Face opponents from all corners of the world online and in real time! Take part in battles between platforms!
Sea Battle offers eye-catching notepad-style graphics and special effects that add to the game's originality and an unforgettable atmosphere!Game features:
ONLINE BATTLES
Confront opponents from all over the world! Defend your platform! Each player can define the final result!
RANKS
Win battles to earn new ranks – from a recruit to an admiral!
CONFRONT ARTIFICIAL INTELLIGENCE
Pick the most appropriate difficulty level and try to defeat the AI (artificial intelligence). Earn points and grow your rank!
PLAY OVER BLUETOOTH
Engage into battles with your friends, colleagues and random players over Bluetooth.
SPONSORED

PLAY WITH YOUR FRIEND ON A SINGLE PHONE
Play with your friend on a single phone (tablet), set your ships on the board in turns, select weapons and share the excitement of a battle!
CHAT AND PROFILE
Stay in touch with your opponents during battles using a built-in chat. Pick an awe-inspiring name and a flag for your fleet.
SELECT AND CONFIGURE GAME MODES
Select the classic or advanced game mode. Modify your arsenal as needed.
GLOBAL LEADERBOARDS
Become the best player on the global leaderboards by the number of general victories and victories for your platform!
Victories are only counted for battles with random opponents.
*****
It's time to find the strongest Sea Battle player!
Screenshots
What's New
1.0.2 Added new flags
1.0.3 Improved the alignment of the ships
1.0.7 Now you can remove ads.
1.1.3 Pirates theme; Space theme; Extended chat
1.1.5 Bug fix
1.1.7 Bug fix
1.1.9 Added ability to save progress in the cloud
1.2.3 Added tournaments and trophy room
1.2.7 Bug fix
Permission
Version 1.3.0 can access:
control vibration
full network access
view network connections
access Bluetooth settings
pair with Bluetooth devices
Size: 26 MB
Version: 1.3.0
SPONSORED