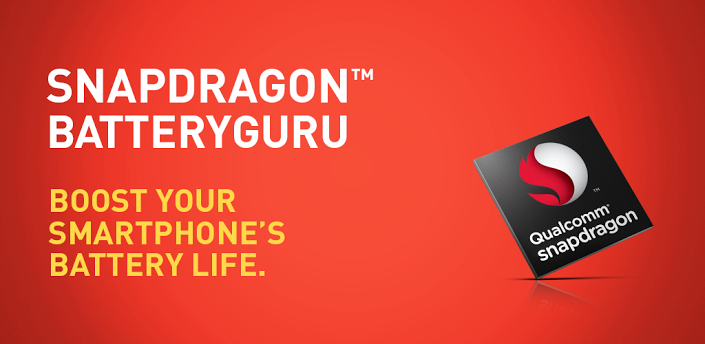 Description
Snapdragon™ BatteryGuru is a battery life saver app that extends battery performance and improves overall user experience by intelligently making changes that optimize device functionality in phones with Snapdragon mobile processors. This app:
• Delivers longer battery life with fewer charges, acting as a battery life extender
• Intelligently learns how you use your Snapdragon-powered smartphone and optimizes your device without disabling smartphone functionality
• Requires no user configuration – Snapdragon BatteryGuru automatically learns and adjusts the smartphone settings so you don't have toAfter a brief 2-4 day introduction period, Snapdragon BatteryGuru learns the user's behaviors and then notifies the user that it is ready to extend the battery life and improve the experience. Snapdragon BatteryGuru continues to operate in the background, deepening its understanding of the user and further optimizing the experience over time.Snapdragon BatteryGuru battery saver app supports a majority of Snapdragon powered devices and we will continue to work to support additional Snapdragon powered devices. If you experience problems using this battery saver app, we'd really appreciate if you send us an email at 
[email protected]
 explaining your problem prior to leaving a review – we'll try to respond as soon as possible.
App Screenshots
Videos
What's New
What's in this version:
We're out of Beta! Thanks everyone for all your feedback.
– Now available in Chinese, French, German, Italian, Japanese, Korean, Portuguese, Russian, Spanish, Turkish
– Minor fixes and improvements
SPONSORED

Permissions
THIS APPLICATION HAS ACCESS TO THE FOLLOWING:
YOUR LOCATION

PRECISE LOCATION (GPS AND NETWORK-BASED)

Allows the app to get your precise location using the Global Positioning System (GPS) or network location sources such as cell towers and Wi-Fi. These location services must be turned on and available to your device for the app to use them. Apps may use this to determine where you are, and may consume additional battery power.

NETWORK COMMUNICATION

FULL NETWORK ACCESS

Allows the app to create network sockets and use custom network protocols. The browser and other applications provide means to send data to the internet, so this permission is not required to send data to the internet.

CONNECT AND DISCONNECT FROM WI-FI

Allows the app to connect to and disconnect from Wi-Fi access points and to make changes to device configuration for Wi-Fi networks.

STORAGE

MODIFY OR DELETE THE CONTENTS OF YOUR USB STORAGE

Allows the app to write to the USB storage.

SYSTEM TOOLS

READ BATTERY STATISTICS

Allows an application to read the current low-level battery use data. May allow the application to find out detailed information about which apps you use.

YOUR APPLICATIONS INFORMATION

RETRIEVE RUNNING APPS

Allows the app to retrieve information about currently and recently running tasks. This may allow the app to discover information about which applications are used on the device.

BLUETOOTH

PAIR WITH BLUETOOTH DEVICES

Allows the app to view the configuration of Bluetooth on the device, and to make and accept connections with paired devices.
YOUR ACCOUNTS

FIND ACCOUNTS ON THE DEVICE

Allows the app to get the list of accounts known by the device. This may include any accounts created by applications you have installed.

DEVELOPMENT TOOLS

READ SENSITIVE LOG DATA

Allows the app to read from the system's various log files. This allows it to discover general information about what you are doing with the device, potentially including personal or private information.

NETWORK COMMUNICATION

VIEW WI-FI CONNECTIONS

Allows the app to view information about Wi-Fi networking, such as whether Wi-Fi is enabled and name of connected Wi-Fi devices.

VIEW NETWORK CONNECTIONS

Allows the app to view information about network connections such as which networks exist and are connected.

CHANGE NETWORK CONNECTIVITY

Allows the app to change the state of network connectivity.

SYSTEM TOOLS

TEST ACCESS TO PROTECTED STORAGE

Allows the app to test a permission for USB storage that will be available on future devices.

AFFECTS BATTERY

PREVENT DEVICE FROM SLEEPING

Allows the app to prevent the device from going to sleep.

YOUR APPLICATIONS INFORMATION

RUN AT STARTUP

Allows the app to have itself started as soon as the system has finished booting. This can make it take longer to start the device and allow the app to slow down the overall device by always running.

SYNC SETTINGS

READ SYNC SETTINGS

Allows the app to read the sync settings for an account. For example, this can determine whether the People app is synced with an account.

TOGGLE SYNC ON AND OFF

Allows an app to modify the sync settings for an account. For example, this can be used to enable sync of the People app with an account.
VERSION:1.5.0
SIZE:4.3M
SPONSORED