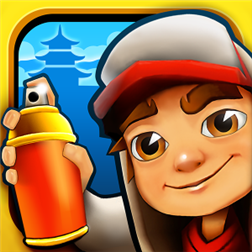 Description
Presented by Kiloo Games and Sybo Games.
DASH as fast as you can!
DODGE the oncoming trains!
Help Jake, Tricky & Fresh escape from the grumpy Inspector and his dog.
SPONSORED

– Grind trains with your cool crew!
– Colorful and vivid HD graphics!
– Hoverboard Surfing!
– Paint powered jetpack!
– Lightning fast swipe acrobatics!
– Challenge and help your friends!
Screenshots
Updated: Aug 29, 2014
Version: 1.28.0
Size: 42.3 MB
Language: English
Seller: Kiloo
©Kiloo Games & Sybo Games 2012-13
Rated 9+ for the following:
Frequent/Intense Cartoon or Fantasy Violence
Requirements: Compatible with iPhone 3GS, iPhone 4, iPhone 4S, iPhone 5, iPod touch (3rd generation), iPod touch (4th generation), iPod touch (5th generation) and iPad. Requires iOS 5.0 or later. This app is optimized for iPhone 5.
SPONSORED