Tap My Katamari – Clicker
Description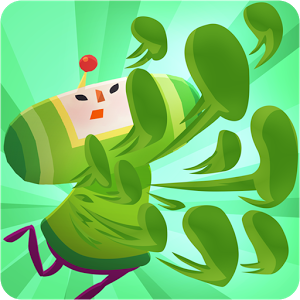 Experience a new way to play Katamari! Tap My Katamari is a spin-off clicker game in the strange and quirky universe of sticky balls, tiny green royalty, and cowbears.You are the Prince, tasked by The King of All Cosmos to restore the universe and its stars by tapping. To do so, you've been given the Katamari, a magical ball that makes everything it touches stick to it. Grow your Katamari into a star and restore the universe!
Start in the house picking up small things like thumbtacks and hamsters. Then get BIGGER and pick up cows and cars! Then get EVEN BIGGER and amass giant squids and spaceships!
If you enjoy the Katamari universe, try this new clicker game and discover a new way to play Katamari on your phone!
How big will you make YOUR Katamari?
——————————-
FEATURES:
● TAP the Katamari and start rolling!
● PICK UP 60 unique objects!
● GROW your Katamari to a legendary size!
● ENLIST 35 cousins who will help your Katamari grow with their strange powers!
● MAKE a star with your Katamari and get precious star tokens!
● WIN presents from The King of All Cosmos!
SPONSORED

Screenshots
What's New
You and your cousins will be so happy!
– Collect 50 achievements
– Compete on 3 leaderboards
– New Mushrooms Menu
– Removed Cousin Fatigue and Energy Drink
– Reworked Lucky Penny, this present now makes Critical Taps even stronger
– Reworked Giant Squid, this present now affects all Prince Abilities
– Numerous improvements to game balance and pacing
– Multiple bug fixes and game optimizations
Thanks for reading and don't forget to tap your Katamari at least once a day
Permission
Version 30 can access:
read phone status and identity
modify or delete the contents of your USB storage
read the contents of your USB storage
modify or delete the contents of your USB storage
read the contents of your USB storage
read phone status and identity
control vibration
full network access
view network connections
prevent device from sleeping
run at startup
Size: 50 MB
Version: 30
SPONSORED