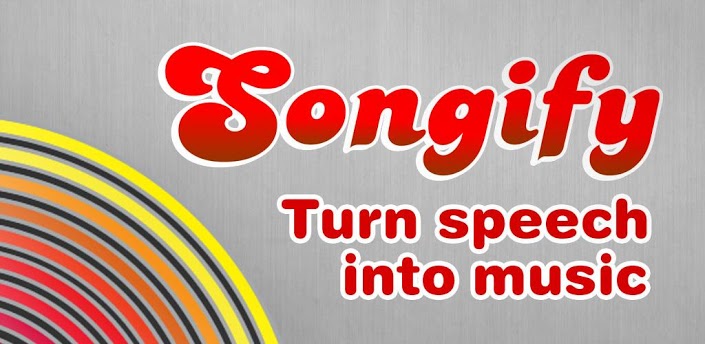 SPONSORED

Description
Just speak into your Android device, and Songify will magically turn your speech into a song. Join the over 9 million people worldwide addicted to Songify!Songify is the official app of the Gregory Brothers, creators of the AutoTune The News series on YouTube, and other viral video hits like "Bed Intruder Song", "Can't Hug Every Cat", "Double Rainbow", and "Winning!"
Songify has been featured in The New York Times, USA Today, Forbes, MSNBC, The Guardian, Washington Post, Mashable, and more!
"The very definition of fun!" – The New York Times
"Turns your speech into song!" David Pogue, CBS
"Don't you want to be famous too?" Blake Grundman, 148apps
"Clever and fun!" – AppAdvice
"Songify is just the type of app for which smartphones were made." – Appolicious
Songify yourself with these popular tracks!
* Bed Intruder
* Can't Hug Every Cat
* Double Rainbow
* Winning
* …and many more!
Songify's unique songification technology was invented by Smule to turn speech into music and is not the same as Antares Auto-Tune, which does not work on speech.
EXPLANATION OF PERMISSIONS USAGE:
Permission: READ PHONE STATE AND IDENTITY
Reason: We use this to create a unique identifier for each device so we can keep track of the coin balance and songs each user has purchased and re-instate current purchases if he or she deletes the app and re-installs. We are currently evaluating other options for this to see if there is a way to offer the same functionality without requiring this.
Permission: MODIFY GLOBAL SYSTEM SETTINGS
We need this permission for the ringtone creation feature.
www.smule.com
App Screenshots
Videos
What's New
What's in this version:
Version 1.0.9
– Fixed crash on song store page
– Several bug fixes and stability improvements
Version 1.0.8
– Bug fixes.
Version 1.0.7
– Improved voice quality
– Several bug fixes
Version 1.0.6
– Fix to force close on stop recording
Version 1.0.5
– Allows style download over 3G (i.e., fix to "wifi" error)
Permissions
THIS APPLICATION HAS ACCESS TO THE FOLLOWING:
YOUR LOCATION

APPROXIMATE LOCATION (NETWORK-BASED)

Allows the app to get your approximate location. This location is derived by location services using network location sources such as cell towers and Wi-Fi. These location services must be turned on and available to your device for the app to use them. Apps may use this to determine approximately where you are.

NETWORK COMMUNICATION

FULL NETWORK ACCESS

Allows the app to create network sockets and use custom network protocols. The browser and other applications provide means to send data to the internet, so this permission is not required to send data to the internet.

PHONE CALLS

READ PHONE STATUS AND IDENTITY

Allows the app to access the phone features of the device. This permission allows the app to determine the phone number and device IDs, whether a call is active, and the remote number connected by a call.

STORAGE

MODIFY OR DELETE THE CONTENTS OF YOUR USB STORAGE

Allows the app to write to the USB storage.

MICROPHONE

RECORD AUDIO

record audio
NETWORK COMMUNICATION

RECEIVE DATA FROM INTERNET

Allows apps to accept cloud to device messages sent by the app's service. Using this service will incur data usage. Malicious apps could cause excess data usage.

VIEW WI-FI CONNECTIONS

Allows the app to view information about Wi-Fi networking, such as whether Wi-Fi is enabled and name of connected Wi-Fi devices.

VIEW NETWORK CONNECTIONS

Allows the app to view information about network connections such as which networks exist and are connected.

SYSTEM TOOLS

MODIFY SYSTEM SETTINGS

Allows the app to modify the system's settings data. Malicious apps may corrupt your system's configuration.

TEST ACCESS TO PROTECTED STORAGE

Allows the app to test a permission for USB storage that will be available on future devices.

AFFECTS BATTERY

PREVENT DEVICE FROM SLEEPING

Allows the app to prevent the device from going to sleep.
VERSION:1.0.9
SIZE:10M
SPONSORED