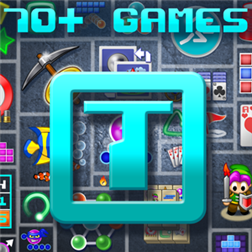 Over 1,000,000 downloads!
Taptitude is a fun and addictive collection of mini-games that are sure to test your skills!
*** New in v11.61 ***
– Bug fixes for Moon Miner
***
Try to collect all 410 stars, or compete online with realtime, weekly, and world leaderboards. Earn coins along the way and buy upgrades to your favorite games! Unlock Stat badges to track your achievements.
Taptitude is updated every week with new content and features!
There's over 80 games! Here's the full list:
SPONSORED

– Moon Miner (new in v11.6!)
– Tap and Field
– Bally Madness
– Elematch
– Joiners
– Robot Rumble
– Unlockulator
– Maze Raider
– Firewall
– Blots
– Craft Quiz
– Bit Ship
– Tap Slide
– Pyramid Raider
– Swap Craft
– Quadrop
– Dojomon
– Mahjong
– Nom-Man
– Bubble Popple
– Hexplosion
– TapQuest
– Brick Breaker
– Hyper Hoops
– Craftitude
– Bally Defender
– Mine Flagger
– Split Ball
– Word Up
– Throwing Star
– Video Poker
– Mystic Square
– Hurdle Hero
– Remembory
– Shooting Gallery
– Follow Cup
– Solitaire – Mathemagician
– Fish Feeder
– Bally Ninja
– Bubble Booyah
– Draw a Heart
– Black Jack
– Bally Paddle
– Ultra Tapper
– Sudoku
– Shape Ninja
– Coin Slots
– Bally Drop
– Copy Cat
– Heads Up
– Swap Match
– Coin Miner
– Tap Out
– Stacker
– Nom Nom Snake
– Memory Match
– Collect Dodge
– Bally Bounce
– Inside Dodge
– Buster
– Color Sort
– Line Dodge
– Mad Rush
– Interference Rush
– Waypoint Rush
– Split Rush
– Lap Rush
– Draw a Circle
– Draw a Square
– Draw a Triangle
– Draw a Star
– Draw Shapes
– Bomb Defuser
– Stay Inside
– Tap Sequence
– Reaction Time
– Dodge Ball
– Finger Twister
– Untangled
– Juggler
– Scratch It
Publisher
FourBros Studio
Works with
Windows Phone 8
Windows Phone 7.5
App

requires
phone

identity

owner

identity

photo

, music, and video libraries

data

services

movement

and directional sensor
HD720P (720×1280)
WVGA (480×800)
WXGA (768×1280)
SPONSORED