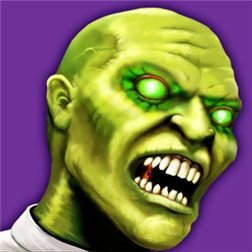 Description
Get GUNFINGER now FREE and experience the most awesome shooting adventure on phone and tablet!
SHOOTER GAMEPLAY REDESIGNED FOR TOUCH
Easy to pick up, challenging to master, it's up to you and your fast finger skills to mow down hordes of undead hillbillies using the GUNFINGER aim system.
A NEW CHALLENGE FREE EVERY DAY
There's always something new with Daily Challenge, enjoy playing a new mission every day!
POWERFUL UPGRADABLE WEAPONS
Customise an arsenal of unique weapons, including shotguns and sniper rifles, to take down undead monsters, rescue civilians and complete increasingly challenging skill missions.
STUNNING HIGH-END GRAPHICS
Featuring some of the most awesome 3D graphics you'll see on a phone or tablet, GUNFINGER supports cutting edge effects like real-time reflections, shadows and normal maps.
INSANE GADGETS
Use your bag of special gadgets to ensure the undead stay dead, including 'head-popper' ammo to make their heads swell and explode!
CRAZY COMBOS
Chain together combos to boost your score by performing trick shots and special kills.
SPONSORED

OVER 70 MISSIONS OF SHOOTING MAYHEM
Join the NE1 secret agency and embark on your adventure to defeat Doc Monday in more than 70 missions set across locations including spooky farmsteads, desert canyons and underground mines. Fight zombies, monsters and even… rubber ducks.
AND COMING SOON…
THE STORY CONTINUES…
Your adventures with the NE1 Agency are set to continue with new story missions in totally new locations.
ALL NEW WEAPONS AND GADGETS
Up your arsenal with even more powerful weapons and all new NE1 gadgets.
FACE NEW ENEMIES
The Zs are evolving, look out for enemies with new offensive and defensive abilities in updates coming soon.
GUNFINGER is completely free to play, but some in game items are offered as an optional purchase. You can turn-off payment features by disabling in-app purchases in your device's settings.
Screenshots
Info
Works with
Windows Phone 8.1
Windows Phone 8
App requires
phone identity
music library
photos library
media playback
data services
phone dialer
movement and directional sensor
web browser component
HD720P (720×1280)
WVGA (480×800)
WXGA (768×1280)
SPONSORED