Tiny Troopers 2 Special Ops
Description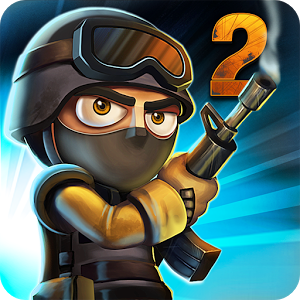 Tiny Troopers are back and better than ever! Decked out in new uniforms and sporting the latest in military hardware, the troopers are just itching to get back into the fight! Test your mettle and lead your troopers to victory in three thrilling special operations!
SPONSORED

LOCK AND ROLL!
Jump on a humvee and man the .50 Cal turret-gun as your driver makes his way through the enemy infested territories while avoiding tank shells and a rain of bullets.
A-TEN HUT!
Customize your troopers with new uniforms and train them up the military ranks. Upgrade their rifles and body armor to help them survive longer on the battlefield.
SPECIAL FORCES
Recruit specialists ranging from medics and machine gunners to the elite Delta Force and the flamethrower wielding Flamer to help you on your missions.
MEAN AND LEAN
Use slick touch controls to move your squad, unleash a hail of bullets and decimate the enemy ranks with grenades, rockets and air strikes.
SURVIVE THE HORDE!
Help the Tiny Troopers fight through endless waves of zombies in 3 action-packed maps. How long can you survive among the undead hordes?
Consult the bill payer before making any in-app purchases.
Important Consumer Information. This app: Requires acceptance of EA's Privacy & Cookie Policy, TOS and EULA. Includes in-game advertising. Collects data through third party ad serving and analytics technology (see Privacy & Cookie Policy for details). Requires a persistent Internet connection (network fees may apply). Contains direct links to the Internet and social networking sites intended for an audience over 13. Allows players to communicate via Facebook notifications and gifting. To disable see the settings in-game.
Screenshots
What's New
Permission
Version 1.3.8 can access:
read phone status and identity
modify or delete the contents of your USB storage
read the contents of your USB storage
modify or delete the contents of your USB storage
read the contents of your USB storage
read phone status and identity
full network access
view network connections
Google Play license check
Size: 13 MB
Version: 1.3.8 
SPONSORED