Top Gear : Stunt School Revolution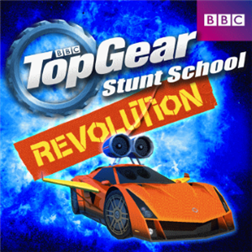 Description
The official BBC Top Gear Game.
Free Racing Game.
Join the Millions who are playing Top Gear: Stunt School Revolution and download now!
With incredible visuals, loads of outrageous cars, iconic world locations, endless and mostly ridiculous customizations and truly unbelievable stunts, it's everything you'd expect from the Top Gear team.
SPONSORED

Want to balloon hop a motor home to clear the Grand Canyon? Use your sports car and escape Alcatraz by leaping as far as you can and landing on a barge? Speed through a roller-coaster on a New York skyscraper with a cow on your pickup? You can do all this and more in Top Gear: Stunt School Revolution.
• Endless vehicle customisations to tweak your car performance to any scenario
• A fantastically responsive, intuitive driving experience
• Fantastic iconic locations from around the world – Grand Canyon, Alcatraz, Sydney Harbour, New York, Moscow, London and China
• Challenge your friends to beat your high scores on each stunt and tell everyone about it on Facebook and Twitter
• The game is free to play and in-app purchases are available for extra Gold Nuts, Permits and Stig Dollars if you can't wait.
App Screenshots
Videos
Info
Publisher
BBC Worldwide Ltd
Version
2014.1220.138.3846
Works with
Windows Phone 8.1
Windows Phone 8
App requires
phone identity
music library
media playback
data services
push notification service
movement and directional sensor
web browser component
HD720P (720×1280)
WVGA (480×800)
WXGA (768×1280)
internet connection
SPONSORED