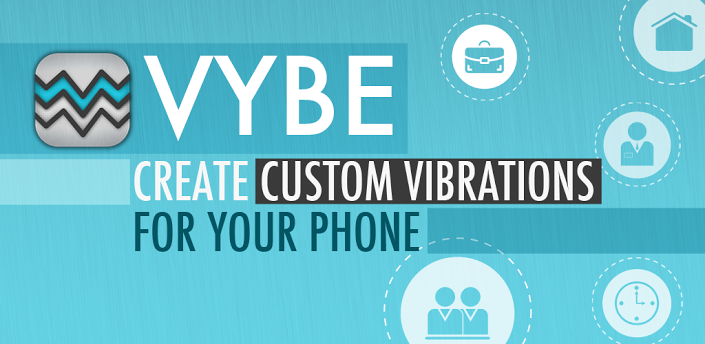 Description
**Featured as top 3 for "Featured Android Apps", "Trending Apps" and in the top 10 list for "Staff Picks" worldwide on the Google Play Store.**
New Features: Added custom vibration support for WhatsApp, Viber, Skype, Gmail, Facebook and Facebook Messenger!
**CNET: 'It does have an attractive UI and should be useful for those that rely on vibration alerts****AddictiveTips: 'A new app with an equally fresh interface that is intuitive and simple to use for anyone****xda-developers: 'Vybe is a fun and practical app for those looking for further customization of their Android devices**
Create custom vibration patterns for your contacts and know who's calling or messaging without looking at your phone. A unique experience where you can design distinct vibration patterns for your phone calls, text messages and app notifications.
SPONSORED

So, now if you are in the classroom, on the road or stuck in a meeting and find it inconvenient to take the phone out, you can still know who might on the other end of the line.
And it's pretty simple! Just create a vibration, assign it to a contact and know who's trying to reach out.
To put it simple just Create, Assign and Feel it.
To remove ads, download Vybe Unlocker: http://play.google.com/store/apps/details?id=com.itchyfingerz.vybeunlocker&feature=search_result
App Screenshots
What's New
What's in this version:
v1.9
– Fixed continuous vibration while recording for low-end HTC and Samsung devices
– Fixed custom SMS vibration in Vibration mode for Nexus 4 and Galaxy Nexus
– Fixed compatibility with Vybe Unlocker
– Fixed banner ads
– Bug fixes and stability improvements
– Easter egg!
v1.8
– G'bye full-screen ads: full-screen ads have been replaced by less intrusive advertising; please consider buying the unlocker app from: http://play.google.com/store/apps/details?id=com.itchyfingerz.vybeunlocker.
Permissions
THIS APPLICATION HAS ACCESS TO THE FOLLOWING:
YOUR MESSAGES

RECEIVE TEXT MESSAGES (SMS)

Allows the app to receive and process SMS messages. This means the app could monitor or delete messages sent to your device without showing them to you.

NETWORK COMMUNICATION

FULL NETWORK ACCESS

Allows the app to create network sockets and use custom network protocols. The browser and other applications provide means to send data to the internet, so this permission is not required to send data to the internet.

PHONE CALLS

READ PHONE STATUS AND IDENTITY

Allows the app to access the phone features of the device. This permission allows the app to determine the phone number and device IDs, whether a call is active, and the remote number connected by a call.

YOUR SOCIAL INFORMATION

READ YOUR CONTACTS

Allows the app to read data about your contacts stored on your device, including the frequency with which you've called, emailed, or communicated in other ways with specific individuals. This permission allows apps to save your contact data, and malicious apps may share contact data without your knowledge.
NETWORK COMMUNICATION

VIEW NETWORK CONNECTIONS

Allows the app to view information about network connections such as which networks exist and are connected.

RECEIVE DATA FROM INTERNET

Allows apps to accept cloud to device messages sent by the app's service. Using this service will incur data usage. Malicious apps could cause excess data usage.

SYSTEM TOOLS

MODIFY SYSTEM SETTINGS

Allows the app to modify the system's settings data. Malicious apps may corrupt your system's configuration.

AFFECTS BATTERY

CONTROL VIBRATION

Allows the app to control the vibrator.

PREVENT DEVICE FROM SLEEPING

Allows the app to prevent the device from going to sleep.
VERSION:1.9
SIZE:5.6M
SPONSORED