Tripomatic City Guides & Maps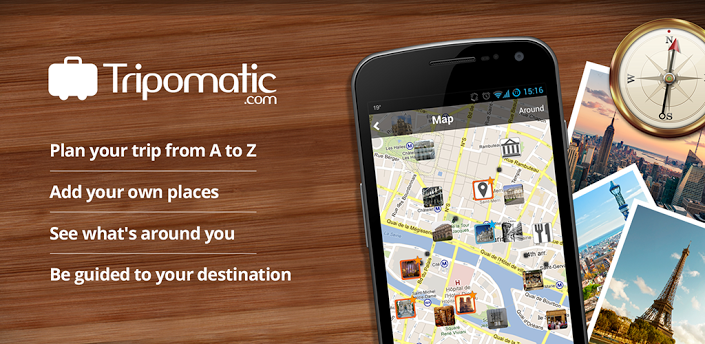 Description
Create your own personalised travel guide for more than 40.000 attractions and quickly find nearby sights.Tripomatic is a trip planner with easy-to-use interface for trip planning on the go.
★ BBC: "The unique advantage of Tripomatic's app is that it can sync up with a web-based itinerary-planning service, available for free at tripomatic.com"
★ PC Magazine: "Tripomatic, an app that makes discovering new places to visit interesting."
★ Lifehacker: "The freedom to explore while on vacation."
★ Featured as one of the Best Travel Apps of 2012 by The Next Web
★ Kim Komando's App of the Day and Today's Pick
★ Gizmodo's App Deal of the Day
✓ 40.000+ attractions in 300+ destinations worldwide.
✓ With photos, contact details, opening hours and admission fees.
✓ Easily add your own custom places.
✓ Discover new places and plan your trip right from the app.
✓ Flick through top activities and easily add them to your daily plan.
✓ Browse maps with all attractions laid out and see what is nearby.
✓ Instantly see what is around you, including distance and direction.
✓ Full sync with www.tripomatic.com – fine-tune trips from your computer or change plans on the go.
✓ Trip templates for popular destinations to get you started.
✓ Heading indicator showing the direction to nearby attractions.
✓ Stunning design with fast, modern and fresh looking interface.
✓ Arrange attractions in days (tap and hold).
✓ Swap days (tap and hold).
Plan your trip to:
☆ NORTH AMERICA
Albany, Albuquerque, Anchorage, Atlanta, Atlantic City, Austin, Baltimore, Billings, Binghamton, Boise, Boston, Buffalo, Calgary, Cambridge, Carson City, Chicago, Cincinnati, Cleveland, Columbia, Corpus Christi, Dallas, Denver, Detroit, Edmonton, El Paso, Fort Lauderdale, Fresno, Halifax, Honolulu, Houston, Indianapolis, Jacksonville, Kansas City, Las Vegas, Los Angeles, Lubbock, Memphis, Miami, Milwaukee, Minneapolis, Montreal, Napa, Nashville, New Orleans, New York, Niagara Falls, Oklahoma City, Orlando, Ottawa, Palm Springs, Pensacola, Philadelphia, Phoenix, Pittsburgh, Portland, Quebec City, Reno, Richmond, Rochester, Salt Lake City, San Antonio, San Diego, San Francisco, Santa Cruz, Santa Fe, Saratoga Springs, Savannah, Seattle, St. Louis, Syracuse, Tallahassee, Tampa, Toronto, Tucson, Tulsa, Vancouver, Washington, West Palm Beach, Winnipeg.
☆ SOUTH AND CENTRAL AMERICA
Acapulco, Asuncion, Bogotá, Brasilia, Buenos Aires, Cancún, Cartagena, Cuzco, Guadalajara, Guatemala City, Havana, La Paz, Lima, Mendoza, Mexico City, Monterrey, Montevideo, Panama City, Puerto Vallarta, Quito, Recife, Rio de Janeiro, Salvador, San Jose, San Salvador, Santiago, Santo Domingo, Sao Paulo, Tegucigalpa, Valparaíso.
☆ EUROPE
Amsterdam, Antwerp, Athens, Barcelona, Belgrade, Berlin, Bruges, Brussels, Bucharest, Budapest, Burgas, Copenhagen, Dresden, Dublin, Dubrovnik, Edinburgh, Florence, Funchal, Geneva, Glasgow, Hamburg, Helsinki, Ibiza, Kiev, Krakow, Lisbon, London, Lucerne, Lviv, Lyon, Madrid, Manchester, Marseille, Milan, Moscow, Munich, Nice, Oslo, Palma, Paris, Plovdiv, Prague, Rhodes City, Riga, Rome, Rotterdam, Salzburg, Seville, Sofia, St.Petersburg, Stockholm, Tallinn, Valencia, Venice, Vienna, Vilnius, Warsaw, Zurich.
SPONSORED

☆ ASIA
Abu Dhabi, Amman, Baku, Bangalore, Bangkok, Beijing, Beirut, Busan, Calcutta, Chiang Mai, Colombo, Dhaka, Dubai, Hangzhou, Hanoi, Ho Chi Minh City, Hong Kong, Istanbul, Jakarta, Jerusalem, Kuala Lumpur, Kyoto, Luang Prabang, Macau, Manila, Mumbai, New Delhi, Osaka, Pattaya, Phnom Penh, Pune, Sapporo, Seoul, Shanghai, Shenzhen, Siem Reap, Singapore, Taichung, Taipei, Tbilisi, Tel Aviv, Tokyo, Udaipur, Xi'an, Yangon, Yerevan.
☆ AUSTRALIA
Adelaide, Auckland, Brisbane, Cairns, Christchurch, Melbourne, Perth, Queenstown, Sydney, Wellington.
☆ AFRICA
Addis Ababa, Cape Town, Durban, Johannesburg, Mombasa, Nairobi, Port Elizabeth, Pretoria, Windhoek.
…and many more!
App Screenshots
What's New
What's in this version:
✓ GPS is active only when necessary.
✓ Optimizations for lower battery consumption.
✓ Improved stability.
Permissions
THIS APPLICATION HAS ACCESS TO THE FOLLOWING:
YOUR LOCATION

APPROXIMATE LOCATION (NETWORK-BASED)

Allows the app to get your approximate location. This location is derived by location services using network location sources such as cell towers and Wi-Fi. These location services must be turned on and available to your device for the app to use them. Apps may use this to determine approximately where you are.

PRECISE LOCATION (GPS AND NETWORK-BASED)

Allows the app to get your precise location using the Global Positioning System (GPS) or network location sources such as cell towers and Wi-Fi. These location services must be turned on and available to your device for the app to use them. Apps may use this to determine where you are, and may consume additional battery power.

NETWORK COMMUNICATION

FULL NETWORK ACCESS

Allows the app to create network sockets and use custom network protocols. The browser and other applications provide means to send data to the internet, so this permission is not required to send data to the internet.

STORAGE

MODIFY OR DELETE THE CONTENTS OF YOUR USB STORAGE

Allows the app to write to the USB storage.

YOUR APPLICATIONS INFORMATION

RETRIEVE RUNNING APPS

Allows the app to retrieve information about currently and recently running tasks. This may allow the app to discover information about which applications are used on the device.
NETWORK COMMUNICATION

VIEW WI-FI CONNECTIONS

Allows the app to view information about Wi-Fi networking, such as whether Wi-Fi is enabled and name of connected Wi-Fi devices.

VIEW NETWORK CONNECTIONS

Allows the app to view information about network connections such as which networks exist and are connected.

SYSTEM TOOLS

TEST ACCESS TO PROTECTED STORAGE

Allows the app to test a permission for USB storage that will be available on future devices.

AFFECTS BATTERY

CONTROL VIBRATION

Allows the app to control the vibrator.
VERSION:1.0.2
SIZE:6.0M
SPONSORED