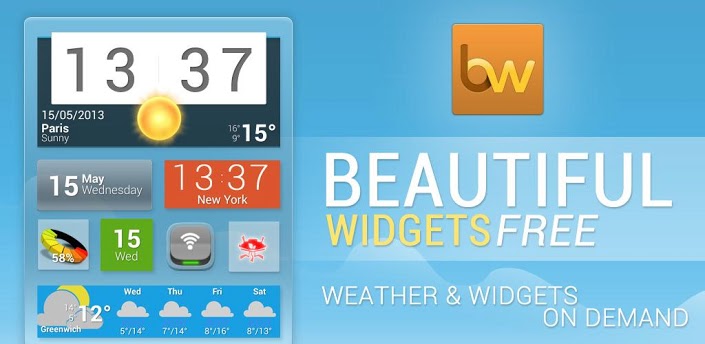 Description
Upgrade your Beautiful Widgets for ★ FREE ★! Earn Getjar Gold by trying new free apps and spend it to unlock every Beautiful Widgets feature you want. You can also use in-app purchase with the Play Store.Tons of widgets, tons of themes, just for you. Beautiful Widgets is your best friend for customizing your home screen. Make it personal, be unique & express yourself.
For free, discover a lot of function :
– A dedicated screen for weather forecast with beautiful animations
– Precise information for your location using Accuweather data
– 3 different kind of widgets : Clock, Weather and Toggle Wifi
– 10 downloads for beautiful themes in a database for more than 2000+ different themes
You want more, unlock these features for your app :
– More weather information like hours, moon-phases and lifestyles
– A new weather provider : Weather Underground
– More customization for your widgets
– More kinds of widgets
– Dedicated widgets in HD for your tablet
– Unlimited downloads of themes
– Rich notification for weather
– A DayDream Screensaver (for 4.2+) with weather information
– More toggle widgets for Wifi, Bluetooth, Brightness, GPS (shortcut), Silent, Vibrate, Rotate and a Timed Silence!
– Access to Web Theme Market with cloud to device communication: browse themes from your computer and apply it directly to your phone along with a new wallpaper!
– Access to Web Theme Mixer: create your own customized themes from the elements of the others themes (http://market.beautiful-widgets.com/skinmixer/explanations)
More than two thousands themes to beautify your widgets. You will be able to do multiple combinations with clock, weather, battery and toggle themes. You can discover the themes on the web store : http://market.beautiful-widgets.com/
They loved Beautiful Widgets :
– Android Central: "We love Beautiful Widgets"
– AndroidGuys: "We're already set to rename the app "Simply Stunning Widgets""
– Android and Me: "Beautiful Widgets is one of the essential must-have Android apps, and has been for quite some time now. If you still haven't managed to buy the app, there's no time to waste."
– ZDNet: "The strength of Android is the ability to make the interface very personal, and Beautiful Widgets is the daddy of them all."
– FrAndroid: "Beautiful Widgets is excellent"
You can submit your own themes from : http://levelupstudio.com/skincreator
SPONSORED

*** Important notes ***
This application is not working on the SD Card because it contains widgets, so please make sure you have enough free space on your device.
App Screenshots
Videos
What's New
What's in this version:
-5.2.1 (05/02/2013)
First release.
Permissions
THIS APPLICATION HAS ACCESS TO THE FOLLOWING:
YOUR LOCATION

APPROXIMATE LOCATION (NETWORK-BASED)

Allows the app to get your approximate location. This location is derived by location services using network location sources such as cell towers and Wi-Fi. These location services must be turned on and available to your device for the app to use them. Apps may use this to determine approximately where you are.

NETWORK COMMUNICATION

FULL NETWORK ACCESS

Allows the app to create network sockets and use custom network protocols. The browser and other applications provide means to send data to the internet, so this permission is not required to send data to the internet.

CONNECT AND DISCONNECT FROM WI-FI

Allows the app to connect to and disconnect from Wi-Fi access points and to make changes to device configuration for Wi-Fi networks.

CONTROL NEAR FIELD COMMUNICATION

Allows the app to communicate with Near Field Communication (NFC) tags, cards, and readers.

PHONE CALLS

READ PHONE STATUS AND IDENTITY

Allows the app to access the phone features of the device. This permission allows the app to determine the phone number and device IDs, whether a call is active, and the remote number connected by a call.

STORAGE

MODIFY OR DELETE THE CONTENTS OF YOUR USB STORAGE

Allows the app to write to the USB storage.

YOUR APPLICATIONS INFORMATION

RETRIEVE RUNNING APPS

Allows the app to retrieve information about currently and recently running tasks. This may allow the app to discover information about which applications are used on the device.

BLUETOOTH

PAIR WITH BLUETOOTH DEVICES

Allows the app to view the configuration of Bluetooth on the device, and to make and accept connections with paired devices.

ACCESS BLUETOOTH SETTINGS

Allows the app to configure the local Bluetooth device, and to discover and pair with remote devices.
YOUR ACCOUNTS

FIND ACCOUNTS ON THE DEVICE

Allows the app to get the list of accounts known by the device. This may include any accounts created by applications you have installed.

READ GOOGLE SERVICE CONFIGURATION

Allows this app to read Google service configuration data.

NETWORK COMMUNICATION

VIEW NETWORK CONNECTIONS

Allows the app to view information about network connections such as which networks exist and are connected.

VIEW WI-FI CONNECTIONS

Allows the app to view information about Wi-Fi networking, such as whether Wi-Fi is enabled and name of connected Wi-Fi devices.

RECEIVE DATA FROM INTERNET

Allows apps to accept cloud to device messages sent by the app's service. Using this service will incur data usage. Malicious apps could cause excess data usage.

SYSTEM TOOLS

MODIFY SYSTEM SETTINGS

Allows the app to modify the system's settings data. Malicious apps may corrupt your system's configuration.

TEST ACCESS TO PROTECTED STORAGE

Allows the app to test a permission for USB storage that will be available on future devices.

AFFECTS BATTERY

PREVENT DEVICE FROM SLEEPING

Allows the app to prevent the device from going to sleep.

YOUR APPLICATIONS INFORMATION

RUN AT STARTUP

Allows the app to have itself started as soon as the system has finished booting. This can make it take longer to start the device and allow the app to slow down the overall device by always running.

WALLPAPER

SET WALLPAPER

Allows the app to set the system wallpaper.
VERSION:5.2.2
SIZE:12M
SPONSORED