Description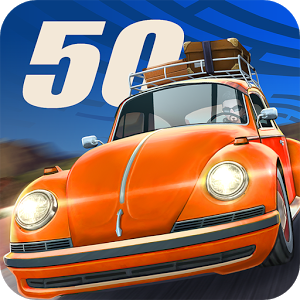 Have you ever imagined to go across US continent with an attractive super car?
Run on a country lane in Japan riding a classic car sometimes.
Possess a house accompanied with swimming pool and an open car.
You will begin galloping to blow out the troublesome thinking while cutting across slow cars as if being crazy.
Welcome to '50 MILES'. Now, you will join the transcontinental racing! Let me guide you before you start this game.
Features of 50 Miles
– 21 kinds of tracks that expressed different weather and time.
– 28 kinds of cars
– If your level goes up, the cargo and clothing are changed.
– You can obtain 4 unique cars only by the reward.
– It's hard to see open cars on mobile.
– Achievement system of abundant rewards
– Support the cloud save
SPONSORED

Game Juice invited you to play 50 MILES.
Screenshots
What's New
– Environmental visual enhancements.
– Fixed minor issues.
– A link to Facebook page of 50 Miles added.
Permission
Version 1.8 can access:
find accounts on the device
find accounts on the device
precise location (GPS and network-based)
read phone status and identity
modify or delete the contents of your USB storage
read the contents of your USB storage
modify or delete the contents of your USB storage
read the contents of your USB storage
read phone status and identity
full network access
view network connections
prevent device from sleeping
control vibration
Google Play license check
Size: 50 MB
Version: 1.8
SPONSORED