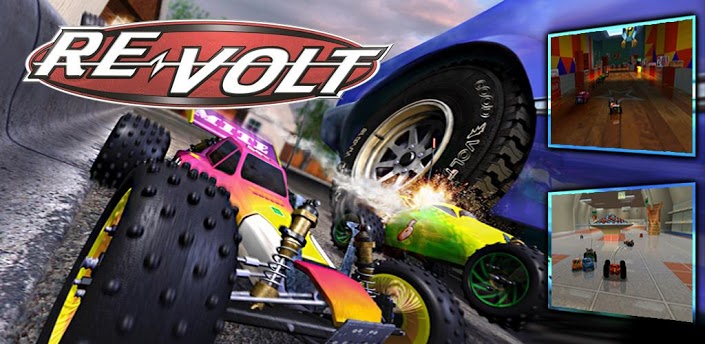 Description
The legend of RC Racing game, "RE-VOLT Classic", back to AndroidRace radio-controlled cars through the neighborhood and beyond in the classic arcade racer RE-VOLT! Fast paced, exciting driving, with explosive weapons and unique track designs deliver a larger than life racing experience like no other.
RE-VOLT Classic brings the original PC and Dreamcast kart racer back to life with retina visuals, control methods tailored for touch devices and all the great gameplay that made the title such a fan favorite when it was originally released.
★ 14 RACE TRACKS
Drive your car through a wide range of tracks, including suburban streets and through gardens and houses, over rooftops under the stars, through museums and cruise ships, and even a Wild West ghost town!
★ 42 CARS
Every kind of r/c car you can imagine is available to unlock in RE-VOLT, electric and gas-powered, fast and slow, heavy and light! Advanced physics makes every car feel different to control – which will be your favorite?
SPONSORED

★ 5 WAYS TO PLAY
Up to 12 car races in Championship and Single Race modes; Arcade style Time Trials against the clock as it counts down to zero; search for the hidden stars in each track's Practice mode; and collect all the stars in the Stunt Arena for a very special surprise…
★ TOUCH CONTROLS DESIGNED FOR RACING
Three set-ups to cater for all tastes and experience, designed for fast paced twitch racing and ultimate control over your vehicle.
★ CLASSIC SOUNDTRACK
Tunes that will stick in your head long after you stop playing, the timeless upbeat soundtrack pumps along with the action driving you forward to every finish line.
★ Global Ranking System
Each track has global ranking system. Compete against world-wide players with high performance cars.
★ MORE GREAT FEATURES COMING SOON
Support development of this game to help bring more game modes and ways to play to future updates.
※ Basic Control Tip !!
■ Reverse way in Touch Control mode
→ Touch the left/right key at the same time
■ Car relocation!
→ shake the device 3~4 times
■ Speed up the car!
→ Raise the difficulty in game setting (Option>Game Setting>Mode : Easy/Medium/Arcade/Simulation)
Copyright ©2013 WeGo Interactive Co.,Ltd. All rights reserved.
App Screenshots
Videos
Permissions
THIS APPLICATION HAS ACCESS TO THE FOLLOWING:
YOUR ACCOUNTS

USE ACCOUNTS ON THE DEVICE

Allows the app to request authentication tokens.

NETWORK COMMUNICATION

FULL NETWORK ACCESS

Allows the app to create network sockets and use custom network protocols. The browser and other applications provide means to send data to the internet, so this permission is not required to send data to the internet.

PHONE CALLS

READ PHONE STATUS AND IDENTITY

Allows the app to access the phone features of the device. This permission allows the app to determine the phone number and device IDs, whether a call is active, and the remote number connected by a call.

STORAGE

MODIFY OR DELETE THE CONTENTS OF YOUR USB STORAGE

Allows the app to write to the USB storage.

SYSTEM TOOLS

READ BATTERY STATISTICS

Allows an application to read the current low-level battery use data. May allow the application to find out detailed information about which apps you use.

AFFECTS BATTERY

ALLOW WI-FI MULTICAST RECEPTION

Allows the app to receive packets sent to all devices on a Wi-Fi network using multicast addresses, not just your device. It uses more power than the non-multicast mode.

MICROPHONE

RECORD AUDIO

record audio
YOUR ACCOUNTS

FIND ACCOUNTS ON THE DEVICE

Allows the app to get the list of accounts known by the device. This may include any accounts created by applications you have installed.

ACT AS THE ACCOUNTMANAGERSERVICE

Allows the app to make calls to AccountAuthenticators.

NETWORK COMMUNICATION

VIEW NETWORK CONNECTIONS

Allows the app to view information about network connections such as which networks exist and are connected.

GOOGLE PLAY LICENSE CHECK

Google Play license check

SYSTEM TOOLS

TEST ACCESS TO PROTECTED STORAGE

Allows the app to test a permission for USB storage that will be available on future devices.

AFFECTS BATTERY

PREVENT DEVICE FROM SLEEPING

Allows the app to prevent the device from going to sleep.

AUDIO SETTINGS

CHANGE YOUR AUDIO SETTINGS

Allows the app to modify global audio settings such as volume and which speaker is used for output.

DEFAULT

CHANGE SCREEN ORIENTATION

Allows the app to change the rotation of the screen at any time. Should never be needed for normal apps.

POWER DEVICE ON OR OFF

Allows the app to turn the device on or off.
VERSION:1.0.5
SIZE:31M
SPONSORED