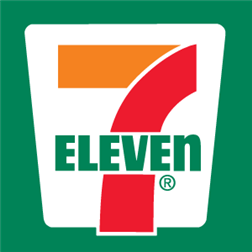 Description
Throughout your day, the 7-Eleven app keeps up with you, customizing and personalizing your experience from the minute you open it.
Swipe around to navigate through all of the greatness 7-Eleven has to offer.
Not only can you see 7-Eleven store locations near you, but you can star your favorites, filter locations by services like hot food, gas, propane and more.
There's always something happening at your neighborhood 7-Eleven, such as Special Edition Slurpee Flavors™, and more. Find out what's going on now in the Events section.
SPONSORED

Whether it's sweltering at midnight, raining at six a.m., and anything in between, sneak a peek at The Goods for some enticing selections customized just for you.
Did we mention there are coupons? See what products you can save on and tap to redeem at any 7-Eleven. Share when you're done to brag about your savings. You can also link your account to Foursquare, check-in and start to earn your rightful Mayorship.
Got a great idea for the app? We've created an Idea Hub so you can tell us all about it.
To get exclusive coupons for your local 7-Eleven stores and customized product recommendations download our app today, it's like there's a 7-Eleven in your pocket.
Features:
Map: Find a 7-Eleven convenience store near you or on your way. Narrow down or filter your search by products and store services.
Coupons: Explore exclusive coupons right on your phone and redeem in-store.
Store Events: See what's going on at your 7-Eleven.
Products: Get delicious suggestions personalized for you.
Screenshots
Info
Download size
8 MB
App requires
phone identity
location services
maps
media playback
data services
movement and directional sensor
HD720P (720×1280)
WVGA (480×800)
WXGA (768×1280)
SPONSORED