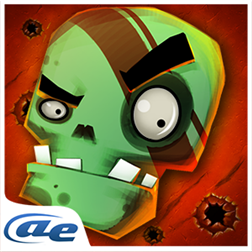 SPONSORED

Description
Love to play FPS game? Enjoy head shots on Zombie? AE CoC Zombie is here for you.
In a small town out of west,DJB has secretly build an underground lab to research Zombies. One day, the zombies are escaped and starting to spread. A SWAT team was sent to recover the town and you are the first lander of the team…
Brand new cartoon style,smooth game control and satisfying shoot pleasure.11 upgradable weapons with different sound and visual effects. Different compainions for you to raise and bring to the warzone. Plenty of chanllenge and levels.
GO. Pick up your weapon and let's start to save this town.
Game description:
11 upgradable weapone, special bullets and props.
Wide range of zombies.Need strategy to fight off different zombie attacks.
Multitouch.
Hidden power with combination of different weapons,bullets and props.
Go explore and found out.
How to play:
Side to aim, tap to shoot. Buttons on the right to reload and use props
For comments and suggestions,please send us email.
Thank you for your support.
If you like Zombie games, shooting games, FPS, flappy bird, subway surf,
temple run, clash of clan, boom beach, you will like this game too.
"注意使用時間,避免遊戲沉迷."
Screenshots
Info
Download size
38 MB
Works with
Windows Phone 8
Windows Phone 7.5
App requires
phone identity
owner identity
location services
photo, music, and video libraries
data services
movement and directional sensor
HD720P (720×1280)
WVGA (480×800)
WXGA (768×1280)
Supported languages (2)
English (United States)中文(简体)
SPONSORED