AE Kalpana-Incas lost city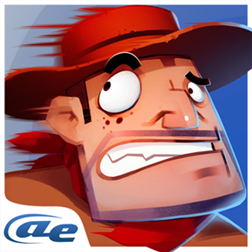 Description
Kalpana-Incas lost city here! Bring you an epic running experience!
Running, sliding, jumping, turning, all kinds of heartbeat!
Game Features:
* Five magnificent game scenes: moss cave, golden cave, red magma, mysterious crystal scene, and bonus cave with plenty of coins;
* Fantastic game music: give you visual and auditory double enjoyment;
* Lifelike characters experience: immersive and thrilling;
* Perfect mission system: spell keys, get gems, open the ultimate treasure box, save the quiet old village;
* Smooth operation: simple to play;
* Endless fun: you will not stop playing it.
* Thrilling obstacles and rich props: Experience the most mysterious hero treasure hunt;
* Role upgrade system: accumulate more energy straightly and beat a higher score!
Game objectives:
Collect coins and mushrooms, get a higher score, and for the ultimate solution to save the cursed village!
Game backgrounds:
Incas, an old village filled with magic and danger,it is cursed by the witch, all the villagers are in a coma for thousands years except the Village Mayor…
The Village Mayor says, the way to break the curse is hidden in a mysterious box, the box is kept in a cave among steep mountains , in far northwest.
It needs 5 gems to open. The gems are placed in five treasure chests,every chest requires a unique key to open,the way to get the keys is to complete specific missions…
SPONSORED

The mysterious box is attended by the witch's monsters. Now the monster is chasing you…
Hurry up!
If you like Temple Run, Subway surfer, Minion Rush, Pitfall!, Mega Jump, Nin Jump, Strike Back, PopStar!, Bubble bust, Bejeweled, Birzzle, Fruit Ninja, Angry Birds, Cut the Rope, Tiny Wings, Gravity Guy, Fragger, Clash of Clans, Hay Day, Candy Crush, My Talking Tom, Star Wars, Pinball Star, you shouldn't miss this crazy challenging and addictive game!
Screenshots
Info
Download size
94 MB
Works with
Windows Phone 8
Windows Phone 7.5
App requires
phone identity
owner identity
location services
photo, music, and video libraries
data services
movement and directional sensor
camera
HD720P (720×1280)
WVGA (480×800)
WXGA (768×1280)
Supported languages (2)
English (United States)中文(简体)
SPONSORED