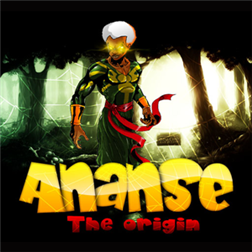 Description
The first installment in the African Legends series is a comic and game based on Kweku Ananse, the cunning spider, a popular African folklore character out of Ghana.
This epic retelling of the Ananse story blends one of the most popular epic Ananse stories, his quest to capture the four most deadly forces on earth and our story 21st century version of Ananse the superhero.
Long ago, Ananse, the god of Wisdom is banished onto earth as a cursed statue of his totem, the spider, by Odumankoma, Ruler of the Skies for treason. Fast-forward to today, the cursed statue of Ananse is discovered and worshipped until fate brings Ananse and an innocent boy, Selasi Rockson together, his vessel for reawakening. Read Synopsis from here http://letigames.wordpress.com/2013/06/21/the-true-ananse-synopsis/
SPONSORED

Play as Ananse and complete his quests in capturing the 4 most powerful forces on Earth to attain the throne as God of Wisdom and Story telling.
Screenshots
Info
Download size
16 MB
App requires
media playback
data services
movement and directional sensor
HD720P (720×1280)
WVGA (480×800)
WXGA (768×1280)
SPONSORED