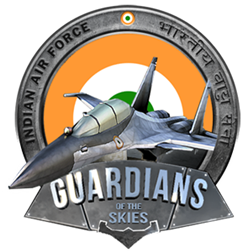 SPONSORED

Description
WANT TO BE A COMBAT PILOT? WANT TO FLY FOR INDIA?
This is the Official Indian Air Force 3D Air Combat Mobile Game. Live the life of an Indian Air Force Combat Pilot and Fly for India!
ONE OF THE MOST REALISTIC AIR COMBAT MOBILE GAMES!
'Guardians' is the most realistic and graphic rich mobile air combat game, which breaks the cliche by bringing the first Campaign based air combat game play on the mobile platform. It also sets new benchmark in graphic and game play optimization techniques and has the most elaborate collection of flying missions ever seen on a mobile platform.
THE GAME!
'Guardians' puts the player in the hot seat as an Indian Air Force Combat Pilot and takes you through one training and ten combat missions. The player learns to fly the SU 30 high performance jet and subsequently flies as a Mi 17 pilot. While the training mission teaches the player the basics of flying training, the two operational missions lay down the foundation for the story in which war clouds are hanging over India and Zaruzia, a country planning to wage war on India. The eight subsequent missions will see a full fledged air war between Zaruzia and India and will feature all operational mission profiles as flown by the IAF and feature the SU 30, M2000, Tejas, Phalcon AWACS, C130, Mi 17, Mi 35 and ALH Dhruv aircraft.
ARMAMENT –
Phase One (present) – Guns, Rockets
Phase Two (eighth October) – Missiles, LGBs etc
THE MISSIONS –
Training – On SU30 MKI. Follow simple instructions and land the aircraft to earn your wing.
Mission One – Anti Piracy – SU 30MKI
Mission Two – Search & rescue – Mi 17V5
Mission Three – Combat Rescue and Night Vision Combat – C130J
Mission Four – Base Defence – Mirage2000
Mission Five – High Value Asset Protection – Phalcon/SU30MKI/M2000/Tejas
Mission Six – Tanking Ops – IL78MD/ M2000
Mission Seven – Counter Air – SU30MKI/M2000/Tejas
Mission Eight – Anti Tank – Mi35/ ALH
Mission Nine – Precision Strikes – SU30MKI/M2000/Tejas
Mission Ten – Defending a major city of India – SU30MKI
MULTIPLAYER – Air to Air combat (Upto six Players)
CONTROLS!
– Motion Sensors and Touch Based. Default Motion Sensor selected.
– For best user experience, calibrate your device (from the pause menu), holding it upright or at 45′ angle.
AWARDS!
The player achieves campaign ribbons and gallantry awards as he progresses across various missions.
FLYING MODES!
Arcade mode is available for the first three missions, while a cockpit simulation mode will be added for the remaining eight missions releasing as part of phase two on 08 Oct 14.
FEATURES!
– Very Realistic Mission Profiles
– Highly detailed aircraft models and other assets
– Featuring fighters, transport and helicopter aircraft of the IAF
– Easy to learn training mission for new flyers
– Ten Operational Missions featuring various IAF roles
– Advanced air combat depictions with modern air to air and air to ground weapons
– Uncluttered Head Up Display optimized to display relevant information
– Aircraft Skin changes in phase two
– Multiplayer in phase two
– Optimized for low to medium end smartphones
– First mobile game to be officially based on the Indian Air Force
GAME RELEASE VERSIONS!
Present version – One Training Mission, Two Combat Missions
Next Version (08 October 14) – Eight Added Combat Missions
THE MISSION!
Play the Game. Join the Mission!
JAI HIND!
Screenshots
Info
Works with
Windows Phone 8.1
Windows Phone 8
App requires
phone identity
music library
media playback
data services
movement and directional sensor
HD720P (720×1280)
WVGA (480×800)
WXGA (768×1280)
SPONSORED