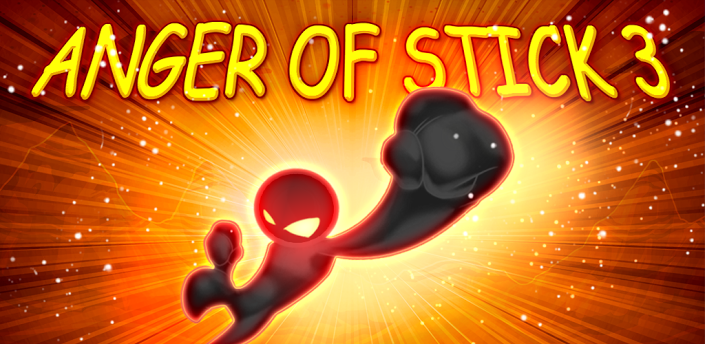 Description
The third installment of the hit series Anger Of Stick now on Android!Anger of Stick 3 features even more spectacular fighting action and the craziest combos you've ever seen!
You play our stick hero once again on a mission to eradicate all villains from other planets! Meet different enemies on each planet and defeat even stronger bosses as you progress through this dangerous and tricky galaxy!Make use of the many fighting combos mastered by our hero, and buy weapons in the shop to increase your destruction radius and chances of survival!
This action packed fighting game has:
– 44 levels across multiple scenarios, split by 9 planets
– Five main characters with different combos, changeable according to the enemies
– Many different types of bosses and enemies on each planet
– Experience true fighting action with energy beams, mid-air combos, continuous attacks, deadly weapons and a leveling up system
– More combo moves for even more intense action!
We've also brought some new and awesome features to the Android version:
– Several new characters
– Super warrior mode
– Evolve your characters
– "Save me" button whenever you die in the game
Tap, jump, punch and kick non stop to vanquish all these stick foes!
App Screenshots
SPONSORED

What's New
What's in this version:
★ Learn how to count while pummelling aliens!
★ Super Warrior mode is even more super!
★ New kick-ass icon!
★ Roundhouse kicking on some bugs
Permissions
THIS APPLICATION HAS ACCESS TO THE FOLLOWING:
YOUR LOCATION

APPROXIMATE LOCATION (NETWORK-BASED)

Allows the app to get your approximate location. This location is derived by location services using network location sources such as cell towers and Wi-Fi. These location services must be turned on and available to your device for the app to use them. Apps may use this to determine approximately where you are.

NETWORK COMMUNICATION

FULL NETWORK ACCESS

Allows the app to create network sockets and use custom network protocols. The browser and other applications provide means to send data to the internet, so this permission is not required to send data to the internet.

PHONE CALLS

READ PHONE STATUS AND IDENTITY

Allows the app to access the phone features of the device. This permission allows the app to determine the phone number and device IDs, whether a call is active, and the remote number connected by a call.

STORAGE

MODIFY OR DELETE THE CONTENTS OF YOUR USB STORAGE

Allows the app to write to the USB storage.

YOUR APPLICATIONS INFORMATION

RETRIEVE RUNNING APPS

Allows the app to retrieve information about currently and recently running tasks. This may allow the app to discover information about which applications are used on the device.
YOUR ACCOUNTS

FIND ACCOUNTS ON THE DEVICE

Allows the app to get the list of accounts known by the device. This may include any accounts created by applications you have installed.

NETWORK COMMUNICATION

VIEW WI-FI CONNECTIONS

Allows the app to view information about Wi-Fi networking, such as whether Wi-Fi is enabled and name of connected Wi-Fi devices.

VIEW NETWORK CONNECTIONS

Allows the app to view information about network connections such as which networks exist and are connected.

RECEIVE DATA FROM INTERNET

Allows apps to accept cloud to device messages sent by the app's service. Using this service will incur data usage. Malicious apps could cause excess data usage.

SYSTEM TOOLS

TEST ACCESS TO PROTECTED STORAGE

Allows the app to test a permission for USB storage that will be available on future devices.

AFFECTS BATTERY

PREVENT DEVICE FROM SLEEPING

Allows the app to prevent the device from going to sleep.
VERSION:1.0.1
SIZE:36M
SPONSORED