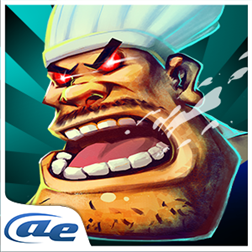 A very wildly popular and fast paced climbing game 'AE Angry Chef' is free at your phone now! Come on, start this adventure and enjoy your climbing fun!
Any feedback please emails us, because we can't reply on comments. Thanks very much for all your support in our games!
The goal of Angry Chef is to rise as high as you possibly can and kill the boss to get bonus. But, this time you will be avoiding dangerous enemies, such as roaches, spiders,
Simians. Take care of new obstacles: Tree stump, rolling stones…Tap on the screen timely to avoid them.
Game includes:
(1) Varieties of obstacles and enemies for challenging
(2) Simple single-tap gameplay
(3) Beautiful graphics
(4) Awesome bonuses and effects
***How To Play***
1.Open the App
2.Chef starts climbing
3.Tap on the screen to jump to opposite wall
1) Beat the enemies when jump
2) Item bonus after beating
3) Get a transform by continuous collection of 3 identical items
4) Avoid the obstacles on the wall
4.Game ends when attacked by enemy or obstacle
SPONSORED

If you like Nin Jump, Strike Back, PopStar!, Bubble bust, Bejeweled, Birzzle, Fruit Ninja, Angry Birds, Cut the Rope, Tiny Wings, Gravity Guy, Fragger, Monster Island ,iStunt or other elimination games, you shouldn't miss this game!
Publisher
AE Mobile
Content rating
EVERYONE
Works with
Windows Phone 8
Windows Phone 7.5
App

requires
phone

identity

owner

identity

location

services

photo

, music, and video libraries

data

services

movement

and directional sensor

camera

HD720P (720×1280)
WVGA (480×800)
WXGA (768×1280)
SPONSORED