Despicable Me: Minion Rush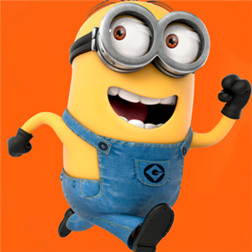 Description
Gru's loyal yellow gibberish-speaking Minions are ready for their toughest challenge in Despicable Me: Minion Rush. Play as a Minion and compete with others in hilarious, fast-paced challenges in order to impress your boss, (former?) super-villain Gru!
SPONSORED

ALL THE HEART AND HUMOR OF DESPICABLE ME
• Enjoy unpredictably hilarious Minion moments
• Perform despicable acts through hundreds of missions
• Run through iconic locations, which are full of surprises, secrets and tricky obstacles: Gru's Lab, Gru's Residential Area, and El Macho's Lair!
• Customize your Minion with unique costumes, weapons, and power-ups
• Battle Vector and an all-new villain exclusively created for the game
AN INNOVATIVE AND ORIGINAL GAME
• Encounter secret areas, unique boss fights and amazing power-ups
• Experience custom animation, voiceovers, and state-of-the-art 3D graphics
• Enjoy multiple dynamic camera angles
• Engage in various bonus gameplay modes:
→ Destroy things as Mega Minion
→ Collect bananas while riding the Fluffy Unicorn
→ Hang on to Gru's Rocket for the ride of your life
• Have fun with your friends! See their best scores during your run, and send them funny Minion taunts and challenges to show them who's going to win Minion of the Year!
_____________________________________________
Visit our official site at http://www.gameloft.com
Follow us on Twitter at http://glft.co/GameloftonTwitter or like us on Facebook at http://facebook.com/Gameloft to get more info about all our upcoming titles.
Check out our videos and game trailers on http://www.youtube.com/Gameloft
Discover our blog at http://glft.co/Gameloft_Official_Blog for the inside scoop on everything Gameloft.
_____________________________________________
This app allows you to purchase virtual items within the app and may contain third-party advertisements that may redirect you to a third-party site.
Terms of use: http://www.gameloft.com/conditions/
Screenshots
Info
Download size
43 MB
App requires
phone identity
data services
push notification service
movement and directional sensor
HD720P (720×1280)
WVGA (480×800)
WXGA (768×1280)
Supported languages (11)
DeutschEnglish (United States)Español (España, alfabetización internacional)françaisitaliano日本語한국어português (Brasil)русскийTürkçe中文(简体)
SPONSORED