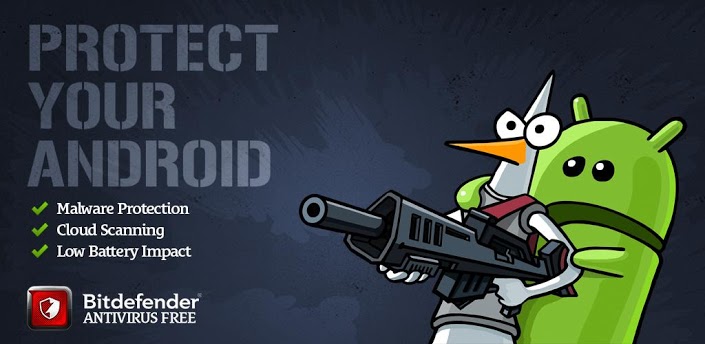 SPONSORED

Description
Take Bitdefender's award-winning antivirus protection with you!Bitdefender's Antivirus Free is a powerful and fast solution that uses in-the-cloud scanning technology to arm your Android device with the very latest industry leading virus detection. Without slowing down your Android or draining your battery. Simply install on your Android and it's ready to go—nothing to configure.
And it's totally free!
Unparalleled Detection
Autopilot automatically scans any new apps that are downloaded to your Android device for viruses. Antivirus Free uses the same scanning engines as Bitdefender Mobile Security-our flagship mobile security app that has been independently certified to catch more than 99% of all viruses targeted at Android devices. This powerful scanner keeps you protected 24/7 against malicious activities.
Feather-Light Performance
Instead of downloading and storing virus signatures directly to Android devices, Antivirus Free uses in-the-cloud services to check online for the latest safeguards to outbreaks. This not only results in super-fast scans, but in close to zero impact on battery life and device performance.
Hassle-Free Operation
Don't worry. Ever. You can sleep but Autopilot, a smart on-install scanner that checks all apps for suspicious activity, won't. Threats and viruses are blocked before any damage is done.
Zero Configuration
Bitdefender Antivirus Free offers you essential antivirus protection against all Android threats. It is ready to go right after installation, acting as an effective guardian against mobile malware. Moreover, the Autopilot automatically scans any new apps you install.
Upgrade to Total Security for Android Devices
Upgrade to Bitdefender Mobile Security, and you'll not only continue to enjoy the same features as above, but also gain an array of additional cutting-edge capabilities. They include the real-time scanning of pages you're viewing online, as well as the ability to lock, locate, and wipe your Android device in case it become lost or stolen.
Download the 14-day Trial Version now – http://bit.ly/IaeJ0g
App Screenshots
What's New
What's in this version:
+ Added translations for Spanish and Italian
+ Bug fixing
Permissions
THIS APPLICATION HAS ACCESS TO THE FOLLOWING:
NETWORK COMMUNICATION

FULL NETWORK ACCESS

Allows the app to create network sockets and use custom network protocols. The browser and other applications provide means to send data to the internet, so this permission is not required to send data to the internet.

PHONE CALLS

READ PHONE STATUS AND IDENTITY

Allows the app to access the phone features of the device. This permission allows the app to determine the phone number and device IDs, whether a call is active, and the remote number connected by a call.

STORAGE

MODIFY OR DELETE THE CONTENTS OF YOUR USB STORAGE

Allows the app to write to the USB storage.
NETWORK COMMUNICATION

VIEW NETWORK CONNECTIONS

Allows the app to view information about network connections such as which networks exist and are connected.

VIEW WI-FI CONNECTIONS

Allows the app to view information about Wi-Fi networking, such as whether Wi-Fi is enabled and name of connected Wi-Fi devices.

SYSTEM TOOLS

TEST ACCESS TO PROTECTED STORAGE

Allows the app to test a permission for USB storage that will be available on future devices.

YOUR APPLICATIONS INFORMATION

RUN AT STARTUP

Allows the app to have itself started as soon as the system has finished booting. This can make it take longer to start the device and allow the app to slow down the overall device by always running.
VERSION:1.1.96
SIZE:892k
SPONSORED