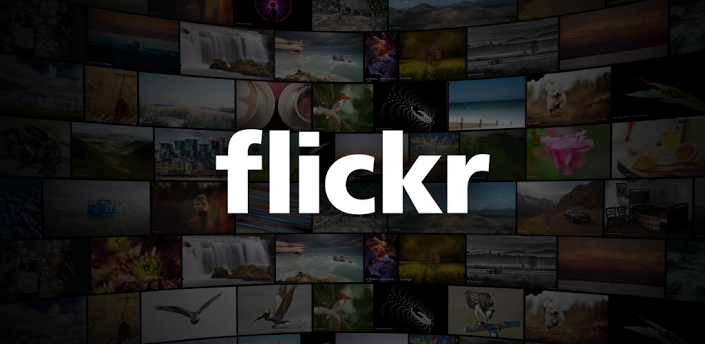 Description
The official Flickr Android App.Smile. Everyone gets a free terabyte.
That's right, a terabyte of space.
Flickr lets you share your photos in brilliant, full resolution from anywhere to any device and anyone.
Biggr: Others measure in gigabytes. Flickr guarantees up to 1000x that: a terabyte of space. That's 500,000 photos* to share and enjoy in their beautiful, original quality.
Whenevr: Upload once, send to any device, any screen, any friend and any follower.
Spectaculr: All of your photos in original quality for upload and download, beautifully displayed.
SPONSORED

* To be exact, it's actually 537,731 photos at 6.5 megapixels.
New to Flickr? Sign up from your Android device.
Flickr Features:
1. Full bleed and high-resolution images
2. Justified views everywhere
3. Sixteen artistically designed filters
4. Photo editor that allows you to enhance, draw, crop, add text or retouch your photo to get them just how you want them
5. Your photos are always yours on Flickr and we give you complete control of your privacy with every photo you take
6. Find and join groups, share photos and join the discussion
7. Explore beautiful and interesting photos from the massive Flickr community – nearby or across the globe
8. Keep track of where you take photos automatically with geotagging
Flickr!
App Screenshots
What's New
What's in this version:
– Introducing a requested feature: 'Save photo' for photos that are available to download.
– Added the ability to sign-in using your flickr screen name.
– Bug fixes
Permissions
THIS APPLICATION HAS ACCESS TO THE FOLLOWING:
YOUR LOCATION

PRECISE LOCATION (GPS AND NETWORK-BASED)

Allows the app to get your precise location using the Global Positioning System (GPS) or network location sources such as cell towers and Wi-Fi. These location services must be turned on and available to your device for the app to use them. Apps may use this to determine where you are, and may consume additional battery power.

NETWORK COMMUNICATION

FULL NETWORK ACCESS

Allows the app to create network sockets and use custom network protocols. The browser and other applications provide means to send data to the internet, so this permission is not required to send data to the internet.

PHONE CALLS

READ PHONE STATUS AND IDENTITY

Allows the app to access the phone features of the device. This permission allows the app to determine the phone number and device IDs, whether a call is active, and the remote number connected by a call.

STORAGE

MODIFY OR DELETE THE CONTENTS OF YOUR USB STORAGE

Allows the app to write to the USB storage.

CAMERA

TAKE PICTURES AND VIDEOS

Allows the app to take pictures and videos with the camera. This permission allows the app to use the camera at any time without your confirmation.

MICROPHONE

RECORD AUDIO

record audio

YOUR SOCIAL INFORMATION

READ YOUR CONTACTS

Allows the app to read data about your contacts stored on your device, including the frequency with which you've called, emailed, or communicated in other ways with specific individuals. This permission allows apps to save your contact data, and malicious apps may share contact data without your knowledge.
YOUR ACCOUNTS

READ GOOGLE SERVICE CONFIGURATION

Allows this app to read Google service configuration data.

NETWORK COMMUNICATION

VIEW NETWORK CONNECTIONS

Allows the app to view information about network connections such as which networks exist and are connected.

VIEW WI-FI CONNECTIONS

Allows the app to view information about Wi-Fi networking, such as whether Wi-Fi is enabled and name of connected Wi-Fi devices.

SYSTEM TOOLS

TEST ACCESS TO PROTECTED STORAGE

Allows the app to test a permission for USB storage that will be available on future devices.

AFFECTS BATTERY

PREVENT DEVICE FROM SLEEPING

Allows the app to prevent the device from going to sleep.

CONTROL VIBRATION

Allows the app to control the vibrator.

YOUR APPLICATIONS INFORMATION

RUN AT STARTUP

Allows the app to have itself started as soon as the system has finished booting. This can make it take longer to start the device and allow the app to slow down the overall device by always running.
VERSION:2.0.2
SIZE:13M
SPONSORED