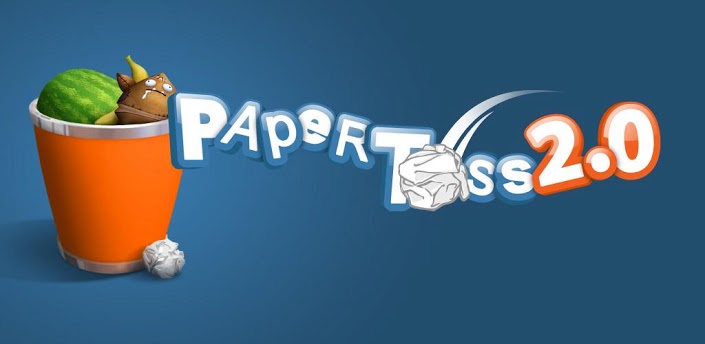 Description
Paper Toss 2.0: Now With Twice The Time-Killing Fun.❝ Paper Toss 2.0 is a great new free game for wasting time and procrastinating real work. ❞ ~ Gamezebo.com Review
❝ Download Paper Toss 2.0 with confidence. It's a classic time waster gone digital, a major upgrade over the original, and best of all, it's free. ❞ ~ SlideToPlay.com Review
The mega-hit Paper Toss game franchise just got a big promotion to Paper Toss 2.0. Remember those pesky "Hey, you hit me!" co-workers from the original Paper Toss? In 2.0 you can throw right at them, you devil. You'll still score points by flicking wads of paper into the office trash can (now with a handsome new ergonomic design). Plus, try your skills with flaming paper balls, tossable bananas, tomatoes, grenades and other stuff to hurl in all-new settings.
Since it's initial launch in June 2009, Paper Toss has been downloaded over 100 million times. Paper Toss 2.0 takes tossing to an entirely new level. It's a free app, because that's our thing. With it, you get:
★ Bananas, grenades and other new tossables
★ Annoying co-workers to toss stuff at
★ Moving targets and bank shots
★ Brand new levels plus classic favorites
★ Breakable, exploding office objects
★ Power-ups to boost your scores
Version 2.0 is so realistic, you'll think you're actually killing time in an office cubicle. (Maybe you are. We won't tell anyone.)
➤ Install Paper Toss 2.0 – It's Free!
SPONSORED

______________________________
Paper Toss 2.0 is brought to you by Backflip Studios, makers of absurdly fun mobile games like NinJump, DragonVale, Ragdoll Blaster, Strike Knight, Army of Darkness Defense, Shape Shift and Graffiti Ball. Search Google Play for "Backflip Studios" to see all our apps.
Follow @BackflipStudios on Twitter for free game announcements and other updates.
Thanks for playing!
App Screenshots
Videos
Permissions
THIS APPLICATION HAS ACCESS TO THE FOLLOWING:
NETWORK COMMUNICATION

FULL NETWORK ACCESS

Allows the app to create network sockets and use custom network protocols. The browser and other applications provide means to send data to the internet, so this permission is not required to send data to the internet.

STORAGE

MODIFY OR DELETE THE CONTENTS OF YOUR USB STORAGE

Allows the app to write to the USB storage.
NETWORK COMMUNICATION

VIEW NETWORK CONNECTIONS

Allows the app to view information about network connections such as which networks exist and are connected.

VIEW WI-FI CONNECTIONS

Allows the app to view information about Wi-Fi networking, such as whether Wi-Fi is enabled and name of connected Wi-Fi devices.

SYSTEM TOOLS

TEST ACCESS TO PROTECTED STORAGE

Allows the app to test a permission for USB storage that will be available on future devices.
VERSION:1.0.2
SIZE:24M
SPONSORED